Honda Accord: Selecting a Memorized Position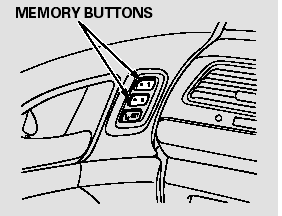 To select a memorized position, do this:
1. Make sure the parking brake is set and the shift lever is in Park (automatic).
2. Press the desired memory button (1 or 2) until you hear a beep, then release the button.
The system will move the driver's seat to the memorized position. The indicator in the selected memory button will flash during movement.
When the adjustment is complete, you will hear two beeps, and the indicator will stay on.
On vehicles with manual transmission
If the parking brake is not set, you must press and hold the memory button until the adjustment is complete.
To stop the system's automatic adjustment, do any of these actions:
Press any button on the driver's door: SET, memory button 1 or 2.
Push any of the adjustment switches for the seat.
Shift out of Park (automatic).
Release the parking brake (manual).
If desired, you can use the adjustment switches to change the seat position after it is in its memorized position. If you change the memorized position, the indicator in the memory button will go out. To keep this seat position for later use, you must store it in the driver's seat position memory.