Honda Accord: Intermediate Shaft Removal
1. Drain the transmission fluid. Reinstall the drain plug using a new sealing washer: -Manual transmission (see page 13-5) -Automatic transmission (see page 14-192) 2. Remove the right driveshaft (see page 16-4).
3. Remove the flange bolt (A) and the two dowel bolts (B).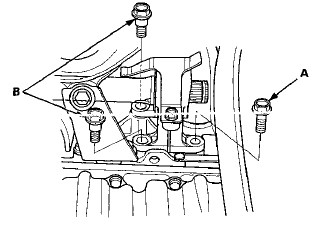 4. Remove the intermediate shaft (A) from the differential. Hold the intermediate shaft horizontally until it is clear of the differential to prevent damaging the oil seal (B).