Honda Accord: Intermediate Shaft Installation
1. Clean the areas where the Intermediate shaft contacts the differential thoroughly with solvent, and dry then with compressed air.
NOTE: Do not wash the rubber parts with solvent.
2. Install a new set ring (A) onto the set ring groove (B) of the intermediate shaft (C).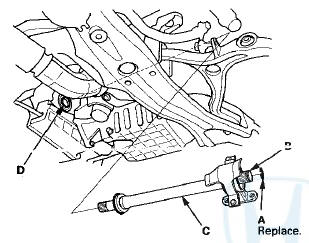 3. Insert the intermediate shaft into the differential correctly.
NOTE: Insert the intermediate shaft carefully to prevent damaging the oil seal (D).
4. Install the flange bolt (A) and the two dowel bolts (B).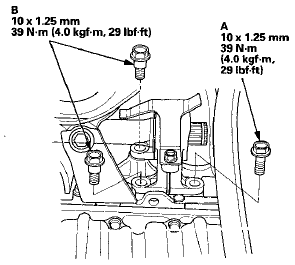 5. Install the right driveshaft (see page 16-19).
6. Refill the transmission with the recommended transmission fluid: -Manual transmission (see page 13-5) -Automatic transmission (see page 14-192) 7. Check the wheel alignment, and adjust it if necessary (see page 18-5).
8. Test-drive the vehicle.