Honda Accord: Fuel Tank Replacement
1. Drain the fuel tank (see page 11 -309).
2. Reinstall the fuel tank unit without connecting the fuel tank unit 4P connector and the quick-connect fitting (see page 11-321).
3. Remove the fuel fill pipe cover (see page 11-327).
4. Disconnect the quick-connect fittings (A) (see page 11-314) (and on all models except PZEV, disconnect the fuel fill tube (B) from the fuel fill pipe).
Slide back the clamps, then twist the hose as you pull to avoid damaging them.
All models except PZEV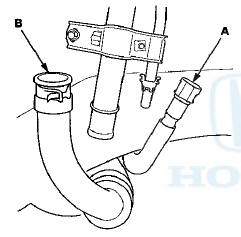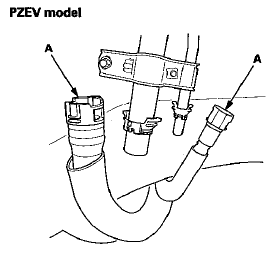 5. Raise the vehicle on a lift.
6. Disconnect the hose (A) from the EVAP canister.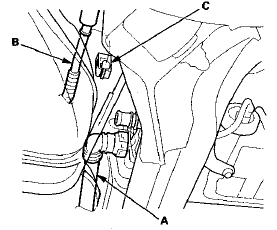 7. Remove the hose (B) from the clamp (C).
NOTE: Be careful not to damage the hose.
8. Remove the exhaust pipe (see page 9-9).
9. Remove the right side middle floor undercover (see page 20-293).
10. Remove the fuel tank protector (A).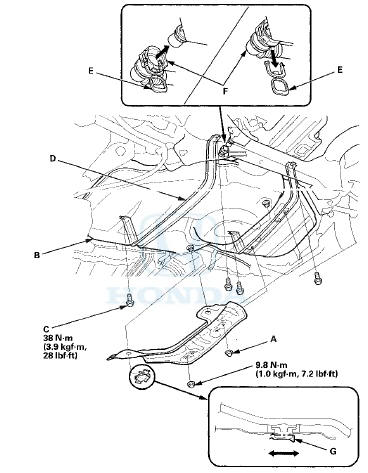 11. Remove the right parking brake cable mounting bolts (see page 19-42).
12. Place a jack or other support under the fuel tank (B).
13. Remove the strap bolts (C) and the straps (D).
14. Remove the fuel tank.
15. Install the parts in the reverse order of removal.
NOTE: - New fuel tanks have a ring pull (E) at the fuel vapor hose connector (F). When you connect the hose and confirm that the connection is secure, remove the ring pull by pulling it down.
- Before connecting the fuel fill pipe and the quick-connect fitting, check for dirt, and clean them if needed, taking care not to damage the fuel fill pipe and other parts.
- When installing the fuel tank protector, make sure to insert it into the clip (G) in the direction shown.