Honda Accord: DVD-ROM Replacement
NOTE: • Check any official Honda service website for more service information about the navigation system and software updates.
• Do not replace the DVD to give a customer a preview of an update DVD.
1. Turn the ignition switch to ON (II).
2. Push the open button (A) of the navigation unit located on the left side of the trunk.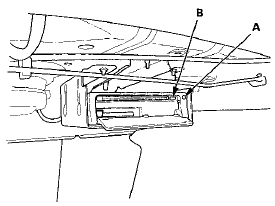 3. Press the EJECT button (B).
4. Remove the DVD
5. Insert the new DVD with the label facing up.
6. Close the front cover. Do not turn the ignition switch to LOCK (0); watch the navigation screen until the data is downloaded to the navigation unit.
7. Do the Map Matching (see page 23-133).
NOTE: After servicing, the front cover and PC card slot door must be closed. If you start up the navigation system with the front cover or PC card slot door open, the display will indicate an error message.