Honda Accord: Wiper Blade Replacement
Removal
1. Lift the wiper arms off the windshield.
2. Pull up and hold the tab (A), and slide the wiper blade assembly (B) toward the tabs until it releases from the wiper arm (C).
NOTE: The illustration shows 4-door.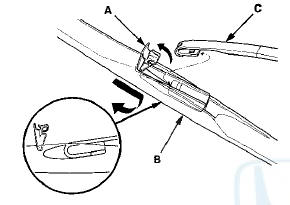 3. Pull back the end of the blade and slide out the old blade (A).
NOTE: The illustration shows 4-door.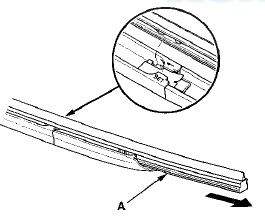 Installation
1. Align the groove (A) of the each rail (B) and a new blade ( C ).
4-door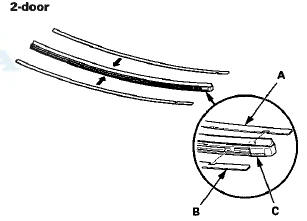 2. Install the new blade with the rails into the blade holder in the reverse order of removal.
3. Install the wiper lade assemblies onto the wiper arms in the reverse order of removal .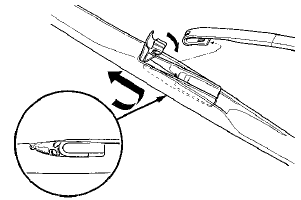 4. Test the wipers by turning the wiper switch on , If the blades slip , turn the wipers witch off and seat the wiper blade securely.
1. Remove the right inner fender (see page 20-290). 2. Disconnect the 2P connector(s) (A) from the washer motor (B) and the washer fluid level switch (Canada models). Washer Reservoir Capacity: ...
4-door 1. Turn the wiper switch ON, and then back OFF. 2. W h e n t h e w i p e r a r m s s t o p at t h e p a r k p o s i t i o n , c o n f i rm that t h e y a r e at t h e s t a n d a r d posi ...
See also:
Servo Body Disassembly, Inspection, and Reassembly
1. Clean all parts thoroughly in solvent, and dry them with compressed air. Blow out all passages. 2. Inspect the valve body for scoring and damage. 3. Check shift valve D for free movement. I ...
Rear Bumper Removal/Installation
NOTE: - Have an assistant help you when removing and installing the rear bumper. - Take care not to scratch the rear bumper or the body. - Put on gloves to protect your hands. - When prying ...
Phone Setup
This command group is available for paired cell phones. Phone pairing tips You cannot pair your phone while the vehicle is moving. Your phone must be in discovery or search mode to pair. Refe ...