Honda Accord: Wiper Blade Replacement
Removal
1. Lift the wiper arms off the windshield.
2. Pull up and hold the tab (A), and slide the wiper blade assembly (B) toward the tabs until it releases from the wiper arm (C).
NOTE: The illustration shows 4-door.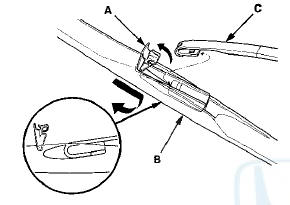 3. Pull back the end of the blade and slide out the old blade (A).
NOTE: The illustration shows 4-door.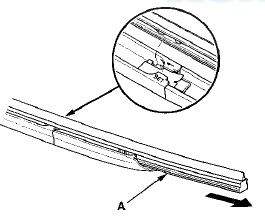 Installation
1. Align the groove (A) of the each rail (B) and a new blade ( C ).
4-door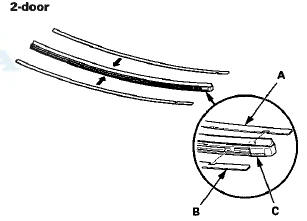 2. Install the new blade with the rails into the blade holder in the reverse order of removal.
3. Install the wiper lade assemblies onto the wiper arms in the reverse order of removal .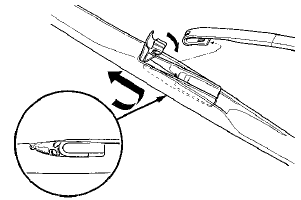 4. Test the wipers by turning the wiper switch on , If the blades slip , turn the wipers witch off and seat the wiper blade securely.
1. Remove the right inner fender (see page 20-290). 2. Disconnect the 2P connector(s) (A) from the washer motor (B) and the washer fluid level switch (Canada models). Washer Reservoir Capacity: ...
4-door 1. Turn the wiper switch ON, and then back OFF. 2. W h e n t h e w i p e r a r m s s t o p at t h e p a r k p o s i t i o n , c o n f i rm that t h e y a r e at t h e s t a n d a r d posi ...
See also:
Starter Overhaul
Disassembly/Reassembly Armature Inspection and Test 1. Remove the starter (see page 4-11). 2. Disassemble the starter as shown in the Exploded View. 3. Inspect the armature for wear or dama ...
Rear Brake Caliper Overhaul
Frequent inhalation of brake pad dust, regardless of material composition, could be hazardous to your health. - Avoid breathing dust particles. - Never use an air hose or brush to clean brake ...
Towing a Trailer
Your vehicle has been designed primarily to carry passengers and their cargo. You can also use it to tow a trailer if you carefully observe the load limits, use the proper equipment, and fol ...