Honda Accord: Authorized Manuals
Purchasing Factory Authorized Manuals (U.S. only)
The publications shown below can be purchased from Helm Incorporated. You can order by phone or online:
Call Helm Inc. at 1-800-782-4356 (credit card orders only)
Go online at www.helminc.com
If you are interested in other years or models, contact Helm Inc.
at 1-800-782-4356.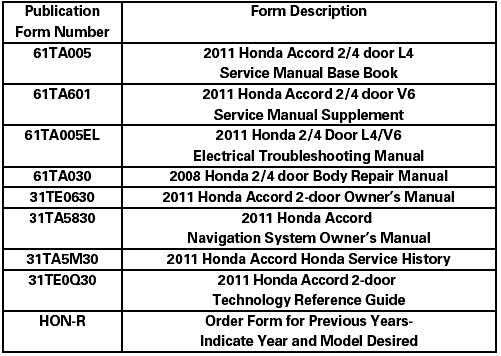 ServiceManual:
Covers maintenance and recommended procedures for repair to engine and chassis components. It is written for the journeyman mechanic, but it is simple enough for most mechanically inclined owners to understand.
Electrical Troubleshooting Manual:
Complements the Service Manual by providing in-depth troubleshooting information for each electrical circuit in your vehicle.
Body Repair Manual:
Describes the procedures involved in the replacement of damaged body parts.
In the US If you believe that your vehicle has a defect which could cause a crash or could cause injury or death, you should immediately inform the National Highway Traffic Safety Administratio ...
See also:
Rear Seat-back Cover Replacement
2-door NOTE: - Put on gloves to protect your hands. - Take care not to tear or damage the seat covers. 1. Remove the seat-back (see page 20-239). 2. Remove all of the head restraints. 3. ...
Knock Sensor Replacement
1. Remove the intake manifold (see page 9-4). 2. Disconnect the knock sensor connector (A). 3. Remove the knock sensor (B). 4. Install the parts in the reverse order of removal. ...
To Turn Everything Off
To turn the system completely off, press the ON/OFF button. Keep the system completely off for short periods only. To keep stale air and mustiness from collecting, you should have the fan ru ...