Honda Accord: Authorized Manuals
Purchasing Factory Authorized Manuals (U.S. only)
The publications shown below can be purchased from Helm Incorporated. You can order by phone or online:
Call Helm Inc. at 1-800-782-4356 (credit card orders only)
Go online at www.helminc.com
If you are interested in other years or models, contact Helm Inc.
at 1-800-782-4356.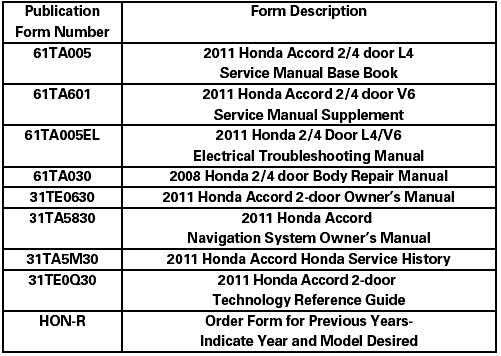 ServiceManual:
Covers maintenance and recommended procedures for repair to engine and chassis components. It is written for the journeyman mechanic, but it is simple enough for most mechanically inclined owners to understand.
Electrical Troubleshooting Manual:
Complements the Service Manual by providing in-depth troubleshooting information for each electrical circuit in your vehicle.
Body Repair Manual:
Describes the procedures involved in the replacement of damaged body parts.
In the US If you believe that your vehicle has a defect which could cause a crash or could cause injury or death, you should immediately inform the National Highway Traffic Safety Administratio ...
See also:
Trim Remowal/Installatlon - Rear Side Area
Special Tools Required KTC Trim Tool Set SOJATP2014* *Available through the Honda Tool and Equipment Program; call 888-424-6857 2-door SRS components are located in this area. Review the SRS c ...
Symptom Troubleshooting Index
When the vehicle has one of these symptoms, check for VSA diagnostic trouble codes (DTCs) with the HDS. If there are no DTCs, do the diagnostic procedure for the symptom, in the sequence listed, ...
CMP Sensor B Replacement
1. Disconnect the connector (A) and hoses (B) from the EVAP canister purge valve (C), then remove the EVAP canister purge valve assembly. 2. Disconnect the CMP sensor B connector (A). 3. Remov ...