Honda Accord: Oil Check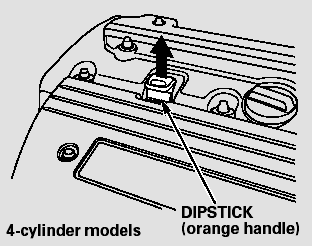 Wait a few minutes after turning the engine off before you check the oil.
1. Remove the dipstick (orange handle/loop).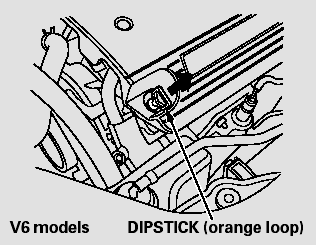 2. Wipe off the dipstick with a clean cloth or paper towel.
3. Insert the dipstick all the way back into its hole.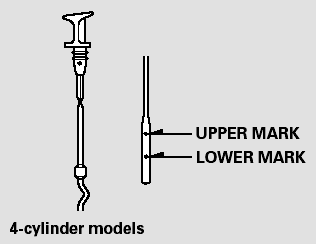 4. Remove the dipstick again, and check the level. It should be between the upper and lower marks.
If it is near or below the lower mark, Adding Engine Oil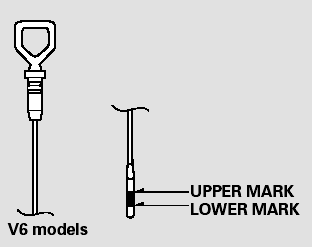 1. Park the vehicle, and set the parking brake. Pull the hood release handle located under the lower left corner of the dashboard. The hood will pop up slightly. 2. Reach in between the ho ...
Look at the coolant level in the radiator reserve tank. Make sure it is between the MAX and MIN lines. If it is below the MIN line, see Adding Engine Coolant for information on adding ...
See also:
Power Transistor Test
1. Remove the passenger's dashboard undercover (see page 20-170). 2. Disconnect the 4P connector from the power transistor. 3. Measure the resistance between terminals No. 3 and No. 4 of the ...
Valve Body Valve Installation
1. Coat all parts with ATF before assembly. 2. Install the valves and the springs in the sequence shown for the main valve body (see page 14-277), the regulator valve body (see page 14-279), and ...
Precautions and Procedures
General Precautions NOTE: Some systems store data in memory that is lost when the battery is disconnected. Before disconnecting the battery, refer to Battery Terminal Disconnection and Reconnectio ...