Honda Accord: HVAC Control Unit Removal / Installation
1. Remove the audio unit (see page 23-115).' 2. Remove the self-tapping screws. If necessary, replace the bulbs (A).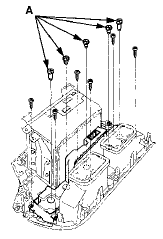 3. While holding the HVAC control unit (A), firmly press the center of one of the dials (B) to remove the outer dial. Repeat for the other outer dial, then remove the unit.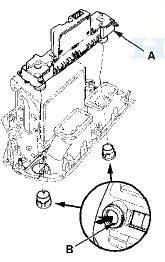 4. Install the control unit in the reverse order of removal.
After installation, operate the various functions to make sure they work properly.
5. Run the self-diagnostic function to confirm that there are no problems in the system (see page 21-10).
1. Remove the glove box (see page 20-174). 2. Disconnect the 7P connector (A) from the recirculation control motor (B). Remove the self-tapping screws and the recirculation control motor from th ...
1. Remove the glove box (see page 20-174). 2. Remove the passenger's undercover (see page 20-170). 3. Remove the right kick panel (see page 20-107). 4. Remove the dust and pollen filter asse ...
See also:
Front Air Spoiler Replacement
NOTE: -Take care not to scratch the front bumper, - Put on gloves to protect your hands. - When prying with a flat-tip screwdriver, wrap it with protective tape to prevent damage. 1. Remove ...
Cylinder Head
Component Location Index (cont'd) Engine Compression Inspection NOTE: After this inspection, you must reset the engine control module (ECM)/powertrain control module (PCM), otherwise the ECM ...
Gearshift Mechanism Replacement
NOTE: Make sure not to get any silicone grease on the terminal part of the connectors and switches, especially if you have silicone grease on your hands or gloves. ...