Honda Accord: HVAC Control Unit Removal / Installation
1. Remove the audio unit (see page 23-115).' 2. Remove the self-tapping screws. If necessary, replace the bulbs (A).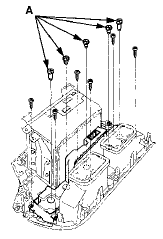 3. While holding the HVAC control unit (A), firmly press the center of one of the dials (B) to remove the outer dial. Repeat for the other outer dial, then remove the unit.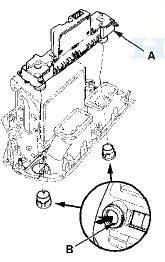 4. Install the control unit in the reverse order of removal.
After installation, operate the various functions to make sure they work properly.
5. Run the self-diagnostic function to confirm that there are no problems in the system (see page 21-10).
1. Remove the glove box (see page 20-174). 2. Disconnect the 7P connector (A) from the recirculation control motor (B). Remove the self-tapping screws and the recirculation control motor from th ...
1. Remove the glove box (see page 20-174). 2. Remove the passenger's undercover (see page 20-170). 3. Remove the right kick panel (see page 20-107). 4. Remove the dust and pollen filter asse ...
See also:
Console Accessory Power Socket Test/Replacement
NOTE: If all of the front and console accessory power sockets do not work, check the No. 1 8 (7.5 A) fuse in the driver's under-dash fuse/relay box and ground (G503) first. 1. Remove the center ...
Front Door Sash Outer Trim Replacement
NOTE: - Take care not to scratch the door. - 4-door is shown; 2-door is similar. 1. Remove the door outer molding (see page 20-36). 2. Pull up the door sash outer trim (A) to release the ho ...
Menu Display
To select any setting such as the clock, sound adjusting, or the compass (if equipped), press the MENU button. To use any audio system function, the ignition switch must be in the ACCESSORY ...