Honda Accord: HVAC Control Unit Removal / Installation
1. Remove the audio unit (see page 23-115).' 2. Remove the self-tapping screws. If necessary, replace the bulbs (A).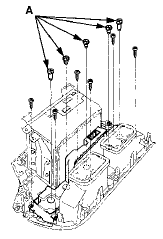 3. While holding the HVAC control unit (A), firmly press the center of one of the dials (B) to remove the outer dial. Repeat for the other outer dial, then remove the unit.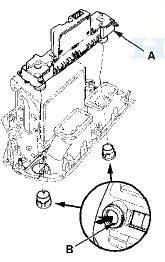 4. Install the control unit in the reverse order of removal.
After installation, operate the various functions to make sure they work properly.
5. Run the self-diagnostic function to confirm that there are no problems in the system (see page 21-10).
1. Remove the glove box (see page 20-174). 2. Disconnect the 7P connector (A) from the recirculation control motor (B). Remove the self-tapping screws and the recirculation control motor from th ...
1. Remove the glove box (see page 20-174). 2. Remove the passenger's undercover (see page 20-170). 3. Remove the right kick panel (see page 20-107). 4. Remove the dust and pollen filter asse ...
See also:
Valve, Spring, and Valve Seal Installation
Special Tools Required Stem Seal Driver, 30 mm 07PAD-0010000 Valve Spring Compressor Attachment 07757-PJ1010A 1. Coat the valve stems with new engine oil. Install the valves in the valve guides. ...
Housing and Shaft Assembly Removal
Special Tools Required Housing Puller 07HAC-PK40102 1. Remove the ATF feed pipe (A) from the idler gear shaft, and remove the ATF lubrication pipe (B) from the transmission housing. 2. Remove ...
Transmission Fluid Pressure Switch B (3rd Clutch) Replacement
1. Raise the vehicle on a lift, or apply the parking brake, block both rear wheels, and raise the front of the vehicle. Make sure it is securely supported. 2. Remove the splash shield. 3. Disc ...