Honda Accord: Under-floorTWC Removal/Installation
1. Raise the vehicle on a lift.
2. Remove the exhaust pipe hangers (A).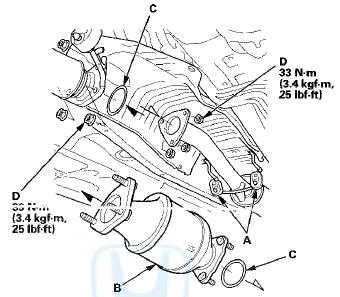 3. Remove the under-floor TWC (B).
4. Install the parts in the reverse order of removal with new gaskets (C) and new self-locking nuts (D).
1. Raise the vehicle on a lift. 2. Remove the secondary H02S (Sensor 2) (see page 11-197). 3. Remove the bolts (A). 4. Remove the WU-TWC bracket (B). 5. Lower the vehicle. 6. Remove th ...
See also:
Power Assist Check
tires and wheels at the correct tire pressure. 1. Check the power steering fluid level (see page 17-28). 2. Start the engine, let it idle, and turn the steering wheel from lock to lock several ...
PIN Number
You can add, change, or remove a PIN number from any phonebook. To add a PIN: If you have selected a phonebook without a PIN, you will see the above display. Enter the new 4-digit PIN. You ...
Tensioner Pulley Replacement
1. Remove the auto-tensioner (see page 4-31). 2. Clamp the auto-tensioner (A) by using two 8 mm bolts (B) and a vise (C) as shown. Do not clamp the auto-tensioner itself, then remove the tensione ...