Honda Accord: Under-floorTWC Removal/Installation
1. Raise the vehicle on a lift.
2. Remove the exhaust pipe hangers (A).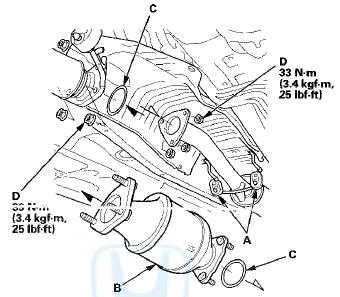 3. Remove the under-floor TWC (B).
4. Install the parts in the reverse order of removal with new gaskets (C) and new self-locking nuts (D).
1. Raise the vehicle on a lift. 2. Remove the secondary H02S (Sensor 2) (see page 11-197). 3. Remove the bolts (A). 4. Remove the WU-TWC bracket (B). 5. Lower the vehicle. 6. Remove th ...
See also:
Differential Carrier/Final Driven Gear Replacemen
1. Loosen the bolts in a crisscross pattern in several steps, then remove the bolts and the final driven gear (A) from the differential carrier (B). 2. Install the final driven gear with the cham ...
Compass Operation
Compass operation can be affected by driving near power lines or stations, across bridges, through tunnels, over railroad crossings, past large vehicles, or driving near large objects that c ...
To Turn Everything Off
To turn the system completely off, press the ON/OFF button. Keep the system completely off for short periods only. To keep stale air and mustiness from collecting, you should have the fan ru ...