Honda Accord: Under-floorTWC Removal/Installation
1. Raise the vehicle on a lift.
2. Remove the exhaust pipe hangers (A).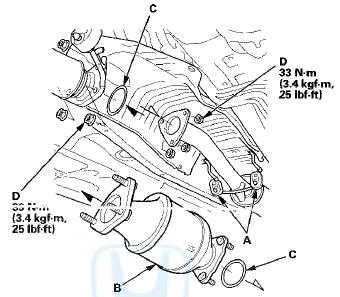 3. Remove the under-floor TWC (B).
4. Install the parts in the reverse order of removal with new gaskets (C) and new self-locking nuts (D).
1. Raise the vehicle on a lift. 2. Remove the secondary H02S (Sensor 2) (see page 11-197). 3. Remove the bolts (A). 4. Remove the WU-TWC bracket (B). 5. Lower the vehicle. 6. Remove th ...
See also:
Drive Belt Inspection
1. Inspect the belt for cracks or damage. If the belt is cracked or damaged, replace it (see page 4-30). 2. Check the position of the auto-tensioner indicator's pointer (A) is within the standard ...
Fluid Replacement
Check the reservoir (A) at regular intervals, and add the recommended fluid as necessary. Always use Honda Power Steering Fluid. Using any other type of power steering fluid or automatic transmissi ...
Clutch Pedal Assembly Replacement
1. Disconnect the clutch pedal position switch connector (A) and the clutch interlock switch connector (B). 2. Pry out the lock pin (C), and pull the clevis pin (D) out of the clevis. 3. Remov ...