Honda Accord: Vehicle Identification Number
Manufacturer, Make, and Type of Vehicle
1HG: Honda of America Mfg., Inc.
Honda passenger vehicle
Line, Body, and Engine Type
CS1: Accord Coupe/K24Z3
Body Type and Transmission Type
1: 2-door Coupe/5-speed Manual
2: 2-door Coupe/5-speed Automatic
Vehicle Grade (Series)
USA models
3: LX, LX PZEV
7: EX, EX PZEV
8: EX-L, EX-L PZEV
Canada models
7: EX
8: EX-L
Check Digit
Model Year
8: '08
Factory Code
A: Marysville, Ohio Factory in U.S.A
Serial Number
000001-: USA models
800001 - : Canada models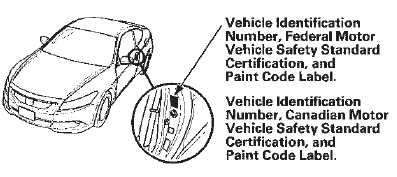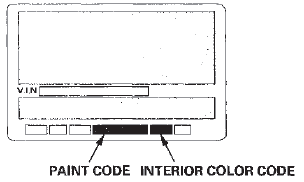 Engine Type K24Z3: 2.4 L DOHC i-VTEC Sequential Multiport Fuel-injected, 190HP engine Serial Number 1000001-: Except PZEV 1500001-: PZEV ...
See also:
Rear Brake Disc Inspection
Runout 1. Raise and support the vehicle (see page 1-13). 2. Remove the rear wheels. 3. Remove the brake pads (see page 19-31), 4. Inspect the brake disc to wheel surface for damage and cracks ...
Front Splash Shield Replacement
NOTE: - Put on gloves to protect your hands. - Take care not to scratch the body. - When prying with a flat-tip screwdriver, wrap it with protective tape to prevent damage. - 4-door is sho ...
Auto Door Locking
The auto door locking feature has three possible settings: The auto door locking is deactivated all the time. The doors lock whenever you move the shift lever out of the Park (P) position (A ...