Honda Accord: Vehicle Identification Number
Manufacturer, Make, and Type of Vehicle
1HG: Honda of America Mfg., Inc.
Honda passenger vehicle
Line, Body, and Engine Type
CS1: Accord Coupe/K24Z3
Body Type and Transmission Type
1: 2-door Coupe/5-speed Manual
2: 2-door Coupe/5-speed Automatic
Vehicle Grade (Series)
USA models
3: LX, LX PZEV
7: EX, EX PZEV
8: EX-L, EX-L PZEV
Canada models
7: EX
8: EX-L
Check Digit
Model Year
8: '08
Factory Code
A: Marysville, Ohio Factory in U.S.A
Serial Number
000001-: USA models
800001 - : Canada models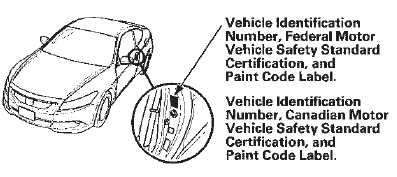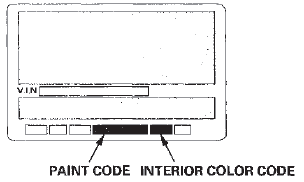 Engine Type K24Z3: 2.4 L DOHC i-VTEC Sequential Multiport Fuel-injected, 190HP engine Serial Number 1000001-: Except PZEV 1500001-: PZEV ...
See also:
Passenger's Dashboard Trim Removal/Installation
Special Tools Required KTC Trim Tool Set SOJATP2014* * Available through the Honda Tool and Equipment Program; call 888-424-6857 NOTE: - Take care not to scratch the dashboard or the related p ...
Low Smart Entry Remote SignalStrength*
The vehicle transmits radio waves to locate the smart entry remote when locking/ unlocking the doors, opening the trunk, or to start the engine. In the following cases, locking/unlocking the door ...
Paint Code
...