Honda Accord: Vehicle Identification Number
Manufacturer, Make, and Type of Vehicle
1HG: Honda of America Mfg., Inc.
Honda passenger vehicle
Line, Body, and Engine Type
CS1: Accord Coupe/K24Z3
Body Type and Transmission Type
1: 2-door Coupe/5-speed Manual
2: 2-door Coupe/5-speed Automatic
Vehicle Grade (Series)
USA models
3: LX, LX PZEV
7: EX, EX PZEV
8: EX-L, EX-L PZEV
Canada models
7: EX
8: EX-L
Check Digit
Model Year
8: '08
Factory Code
A: Marysville, Ohio Factory in U.S.A
Serial Number
000001-: USA models
800001 - : Canada models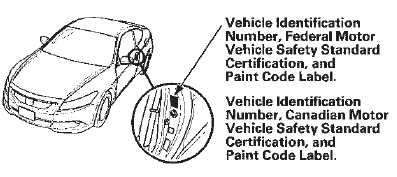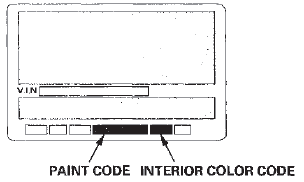 Engine Type K24Z3: 2.4 L DOHC i-VTEC Sequential Multiport Fuel-injected, 190HP engine Serial Number 1000001-: Except PZEV 1500001-: PZEV ...
See also:
Column Cover Removal/Installation
NOTE: - Put on gloves to protect your hands. - Take care not to scratch or damage the column covers. - Do not pry the cover surface with any tools. 1. Adjust the steering column to the full ...
Component Location Index
'10 model ...
Climate Control Switch Removal / Installation
With Navigation 1 Remove the audio unit (see page 23-114). 2. Remove the self-tapping screws and the climate control switches (A). If necessary, replace the bulbs (B). 3. Install the switches ...