Honda Accord: Vehicle Identification Number
Manufacturer, Make, and Type of Vehicle
1HG: Honda of America Mfg., Inc.
Honda passenger vehicle
Line, Body, and Engine Type
CS1: Accord Coupe/K24Z3
Body Type and Transmission Type
1: 2-door Coupe/5-speed Manual
2: 2-door Coupe/5-speed Automatic
Vehicle Grade (Series)
USA models
3: LX, LX PZEV
7: EX, EX PZEV
8: EX-L, EX-L PZEV
Canada models
7: EX
8: EX-L
Check Digit
Model Year
8: '08
Factory Code
A: Marysville, Ohio Factory in U.S.A
Serial Number
000001-: USA models
800001 - : Canada models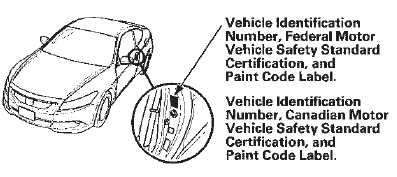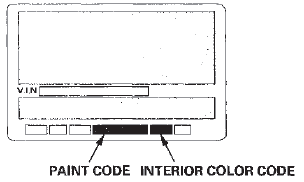 Engine Type K24Z3: 2.4 L DOHC i-VTEC Sequential Multiport Fuel-injected, 190HP engine Serial Number 1000001-: Except PZEV 1500001-: PZEV ...
See also:
Rack Guide Adjustment
Special Tools Required Locknut Wrench, 40 mm 07MAA-SL00100 or Locknut Wrench, 41 mm 07916-SA50001 1. Set the front wheels in the straight ahead position. 2. Loosen the rack guide screw locknut ( ...
Dynamic Damper Replacement
1. Remove the Inboard joint (see page 16-7). 2. Remove the dynamic damper band (see step 1 on page 16-7). 3. Remove the dynamic damper (A). Left driveshaft Right driveshaft 4. Install a ...
Vehicle Stability Assist (VSA ), aka Electronic Stability Control (ESC), System
The vehicle stability assist (VSA) system helps to stabilize the vehicle during cornering if the vehicle turns more or less than desired. It also assists you in maintaining traction while ac ...