Honda Accord: Vehicle Identification Number
Manufacturer, Make, and Type of Vehicle
1HG: Honda of America Mfg., Inc.
Honda passenger vehicle
Line, Body, and Engine Type
CS1: Accord Coupe/K24Z3
Body Type and Transmission Type
1: 2-door Coupe/5-speed Manual
2: 2-door Coupe/5-speed Automatic
Vehicle Grade (Series)
USA models
3: LX, LX PZEV
7: EX, EX PZEV
8: EX-L, EX-L PZEV
Canada models
7: EX
8: EX-L
Check Digit
Model Year
8: '08
Factory Code
A: Marysville, Ohio Factory in U.S.A
Serial Number
000001-: USA models
800001 - : Canada models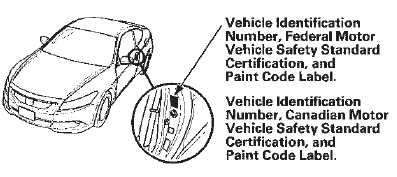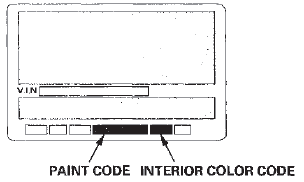 Engine Type K24Z3: 2.4 L DOHC i-VTEC Sequential Multiport Fuel-injected, 190HP engine Serial Number 1000001-: Except PZEV 1500001-: PZEV ...
See also:
Daytime Running Lights
With the headlight switch off or in the position, the high beam headlights and the high beam indicator come on with reduced brightness when you turn the ignition switch to the ON (II) po ...
Circuit Diagram
'08-09 Models With Navigation '10 Model With Navigation '08-09 Models Without Navigation '10 Model Without Navigation ...
Road Test
1. Apply the parking brake, and block both rear wheels. Start the engine, and warm it up to normal operating temperature (the radiator fan comes on). 2. Shift to D while pressing the brake peda ...