Honda Accord: Vehicle Identification Number
Manufacturer, Make, and Type of Vehicle
1HG: Honda of America Mfg., Inc.
Honda passenger vehicle
Line, Body, and Engine Type
CS1: Accord Coupe/K24Z3
Body Type and Transmission Type
1: 2-door Coupe/5-speed Manual
2: 2-door Coupe/5-speed Automatic
Vehicle Grade (Series)
USA models
3: LX, LX PZEV
7: EX, EX PZEV
8: EX-L, EX-L PZEV
Canada models
7: EX
8: EX-L
Check Digit
Model Year
8: '08
Factory Code
A: Marysville, Ohio Factory in U.S.A
Serial Number
000001-: USA models
800001 - : Canada models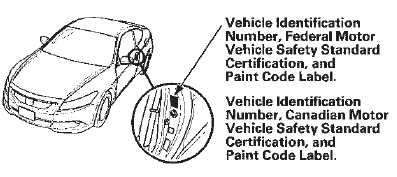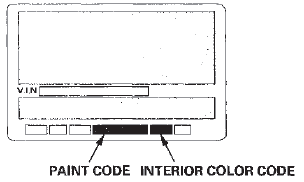 Engine Type K24Z3: 2.4 L DOHC i-VTEC Sequential Multiport Fuel-injected, 190HP engine Serial Number 1000001-: Except PZEV 1500001-: PZEV ...
See also:
Suspension
...
Outside Temperature Indicator
If equipped This indicator displays the outside temperature in Fahrenheit (U.S. models) or Celsius (Canadian models). To see the outside temperature, press and release the select/reset knob ...
Relays
Power Relay Test Special Tools Required Relay Puller 07AAC-000A1A0 Use this chart to identify the type of relay, then do the test listed for it. *1:'08-09 models *2: Carefully remove the relay ...