Honda Accord: Vehicle Identification Number
Manufacturer, Make, and Type of Vehicle
1HG: Honda of America Mfg., Inc.
Honda passenger vehicle
Line, Body, and Engine Type
CS1: Accord Coupe/K24Z3
Body Type and Transmission Type
1: 2-door Coupe/5-speed Manual
2: 2-door Coupe/5-speed Automatic
Vehicle Grade (Series)
USA models
3: LX, LX PZEV
7: EX, EX PZEV
8: EX-L, EX-L PZEV
Canada models
7: EX
8: EX-L
Check Digit
Model Year
8: '08
Factory Code
A: Marysville, Ohio Factory in U.S.A
Serial Number
000001-: USA models
800001 - : Canada models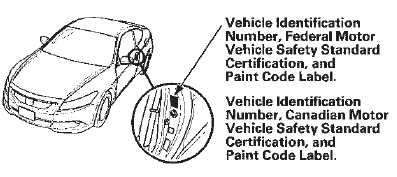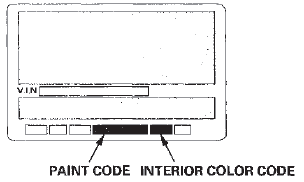 Engine Type K24Z3: 2.4 L DOHC i-VTEC Sequential Multiport Fuel-injected, 190HP engine Serial Number 1000001-: Except PZEV 1500001-: PZEV ...
See also:
Crankshaft Pulley Removal and Installation
Special Tools Required Handle, 6-25-660L 07JAB-001020B Crankshaft Pulley Holder 07AAB-RJAA100 Socket, 19 mm 07JAA-001020A or equivalent Removal 1 . Remove the front wheels. 2. Remove the splas ...
CMP Sensor B Replacement
1. Disconnect the connector (A) and hoses (B) from the EVAP canister purge valve (C), then remove the EVAP canister purge valve assembly. 2. Disconnect the CMP sensor B connector (A). 3. Remov ...
How to Refuel
1. Stop your vehicle with the service station pump on the left side of the vehicle in the rear. 2. Turn off the engine. 3. Push on the fuel fill door release handle at the foot of the driv ...