Honda Accord: Engine Number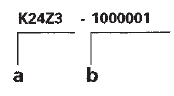 Engine Type
K24Z3: 2.4 L DOHC i-VTEC Sequential Multiport Fuel-injected, 190HP engine
Serial Number
1000001-: Except PZEV
1500001-: PZEV
Manufacturer, Make, and Type of Vehicle 1HG: Honda of America Mfg., Inc. Honda passenger vehicle Line, Body, and Engine Type CS1: Accord Coupe/K24Z3 Body Type and Transmission Type 1: 2-door ...
Transmission Type 88E5: 5-speed Manual B90A: 5-speed Automatic Serial Number 1000001-: B90A 8000001-: 88E5 ...
See also:
Power Mirror Heaters
All Canadian models U.S. EX, EX-L and all V6 models The outside mirrors are heated to remove fog and frost. With the ignition switch in the ON (II) position, turn on the heaters by pressi ...
ATF Temperature Sensor Test/Replacement
1. Raise the vehicle on a lift, or apply the parking brake, block both rear wheels, and raise the front of the vehicle. Make sure it is securely supported. 2. Remove the splash shield. 3. Disc ...
Compass*
When you set the power mode to ON, the compass self-calibrates, and the compass display appears. ...