Honda Accord: Engine Number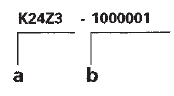 Engine Type
K24Z3: 2.4 L DOHC i-VTEC Sequential Multiport Fuel-injected, 190HP engine
Serial Number
1000001-: Except PZEV
1500001-: PZEV
Manufacturer, Make, and Type of Vehicle 1HG: Honda of America Mfg., Inc. Honda passenger vehicle Line, Body, and Engine Type CS1: Accord Coupe/K24Z3 Body Type and Transmission Type 1: 2-door ...
Transmission Type 88E5: 5-speed Manual B90A: 5-speed Automatic Serial Number 1000001-: B90A 8000001-: 88E5 ...
See also:
Circuit Diagram
'08-09 Models With Navigation '10 Model With Navigation '08-09 Models Without Navigation '10 Model Without Navigation ...
Circuit Diagram
...