Honda Accord: Engine Number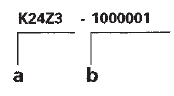 Engine Type
K24Z3: 2.4 L DOHC i-VTEC Sequential Multiport Fuel-injected, 190HP engine
Serial Number
1000001-: Except PZEV
1500001-: PZEV
Manufacturer, Make, and Type of Vehicle 1HG: Honda of America Mfg., Inc. Honda passenger vehicle Line, Body, and Engine Type CS1: Accord Coupe/K24Z3 Body Type and Transmission Type 1: 2-door ...
Transmission Type 88E5: 5-speed Manual B90A: 5-speed Automatic Serial Number 1000001-: B90A 8000001-: 88E5 ...
See also:
Special Tools
...
Setting the Clock
On models without navigation system To set the time, press the CLOCK button until you hear a beep. The displayed time begins to blink. Change the hours by pressing the H (hour) button until th ...
MIL Circuit Troubleshooting
1. Turn the ignition switch to ON (II). 2. Do the gauge self-diagnostic function (see page 22-332). Does the MIL indicator flash? YES-Go to step 3. NO-Substitute a known-good gauge control ...