Honda Accord: Engine Number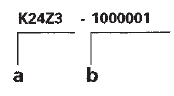 Engine Type
K24Z3: 2.4 L DOHC i-VTEC Sequential Multiport Fuel-injected, 190HP engine
Serial Number
1000001-: Except PZEV
1500001-: PZEV
Manufacturer, Make, and Type of Vehicle 1HG: Honda of America Mfg., Inc. Honda passenger vehicle Line, Body, and Engine Type CS1: Accord Coupe/K24Z3 Body Type and Transmission Type 1: 2-door ...
Transmission Type 88E5: 5-speed Manual B90A: 5-speed Automatic Serial Number 1000001-: B90A 8000001-: 88E5 ...
See also:
Wheels
Clean the wheels as you would the rest of the exterior. Wash them with the same solution, and rinse them thoroughly. Aluminum alloy wheels have a protective clear-coat that keeps the alumin ...
MAP Sensor Replacement
1. Disconnect the MAP sensor connector (A). 2. Remove the MAP sensor (B). 3. Install the parts in the reverse order of removal with a new O-ring (C). ...
Component Location I n d e x
All models except PZEV ...