Honda Accord: Engine Number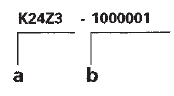 Engine Type
K24Z3: 2.4 L DOHC i-VTEC Sequential Multiport Fuel-injected, 190HP engine
Serial Number
1000001-: Except PZEV
1500001-: PZEV
Manufacturer, Make, and Type of Vehicle 1HG: Honda of America Mfg., Inc. Honda passenger vehicle Line, Body, and Engine Type CS1: Accord Coupe/K24Z3 Body Type and Transmission Type 1: 2-door ...
Transmission Type 88E5: 5-speed Manual B90A: 5-speed Automatic Serial Number 1000001-: B90A 8000001-: 88E5 ...
See also:
Audio Unit Removal/Installation
With Navigation SRS components are located in this area. Review the SRS component locations (see page 24-23), and the precautions and procedures (see page 24-25) before doing repairs or service. ...
Vehicle Stability Assist (VSA ), aka Electronic Stability Control (ESC), System
The vehicle stability assist (VSA) system helps to stabilize the vehicle during cornering if the vehicle turns more or less than desired. It also assists you in maintaining traction while ac ...
Information Display
Information Display The information display shows the odometer, trip meter, engine oil life, outside temperature (if equipped), and maintenance item code(s). To switch the display, press and ...