Honda Accord: Transmission Number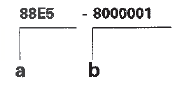 Transmission Type
88E5: 5-speed Manual
B90A: 5-speed Automatic
Serial Number
1000001-: B90A
8000001-: 88E5
Engine Type K24Z3: 2.4 L DOHC i-VTEC Sequential Multiport Fuel-injected, 190HP engine Serial Number 1000001-: Except PZEV 1500001-: PZEV ...
See also:
End Cover Removal
Special Tools Required Mainshaft Holder 07GAB-PF50101 1. Remove the three bolts (D) securing the ATF cooler inlet line brackets, the ATF filter bracket bolts (E), the ATF cooler line banjo bolts ...
Moonroof Switch Test/Replacement
1. Remove the front Individual map lights (see page 22-258). 2. Disconnect the moonroof switch 12P connector (A) and map light 3P connector (B). 3. Remove the moonroof switch (C) from the map ...