Honda Accord: Transmission Number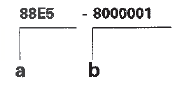 Transmission Type
88E5: 5-speed Manual
B90A: 5-speed Automatic
Serial Number
1000001-: B90A
8000001-: 88E5
Engine Type K24Z3: 2.4 L DOHC i-VTEC Sequential Multiport Fuel-injected, 190HP engine Serial Number 1000001-: Except PZEV 1500001-: PZEV ...
See also:
Secondary Shaft 2nd Gear Axial Clearance Inspection
1. Install the thrust needle bearing (A), the needle bearing (B), 2nd gear (C), the thrust needle bearing (D), the 37 x 58 mm thrust washer (E), and the 2nd clutch (F) on the secondary shaft (G), t ...
Servo Body Disassembly, Inspection, and Reassembly
1. Clean all parts thoroughly in solvent, and dry them with compressed air. Blow out all passages. 2. Inspect the valve body for scoring and damage. 3. Check shift valve D for free movement. I ...
Crankshaft Main Bearing Replacement
Main Bearing Clearance Inspection 1. To check the main bearing-to-journal oil clearance, remove the lower block and the bearing halves (see page 7-14). 2. Clean each main journal and the bearing ...