Honda Accord: Transmission Number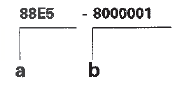 Transmission Type
88E5: 5-speed Manual
B90A: 5-speed Automatic
Serial Number
1000001-: B90A
8000001-: 88E5
Engine Type K24Z3: 2.4 L DOHC i-VTEC Sequential Multiport Fuel-injected, 190HP engine Serial Number 1000001-: Except PZEV 1500001-: PZEV ...
See also:
Symptom Troubleshooting
Immobilizer Indicator blinks NOTE; Before troubleshooting, check the Items listed In "General Check before Troubleshooting". 1. Turn the ignition switch to LOCK (0). 2. Connect the H ...