Honda Accord: Transmission Number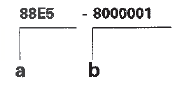 Transmission Type
88E5: 5-speed Manual
B90A: 5-speed Automatic
Serial Number
1000001-: B90A
8000001-: 88E5
Engine Type K24Z3: 2.4 L DOHC i-VTEC Sequential Multiport Fuel-injected, 190HP engine Serial Number 1000001-: Except PZEV 1500001-: PZEV ...
See also:
Anti-lock Brakes (ABS)
The anti-lock brake system (ABS) helps prevent the wheels from locking up, and helps you retain steering control by pumping the brakes rapidly, much faster than a person can do it. The elec ...
Oil Seal Replacement
Special Tools Required - Driver Handle, 15 x 135L 07749-0010000 - Oil Seal Driver Attachment 07NAD-P20A100 1. Remove the oil seal (A) from the transmission housing (B). ...
Park Lever Stop Inspection and Adjustment
1. Set the park lever in the P position. 2. Measure the distance (A) between the park pawl shaft (B) and the park lever roller pin (C). Standard: 57.7-58.7 mm (2.27-2.31 in) 3. If the measurem ...