Honda Accord: Tie-rod End Ball Joint Boot Replacement
Special Tools Required
Bearing Driver Attachment, 36 07965-SA50500
1 Disconnect the tie-rod end ball joint from the knuckle (see step 26 on page 17-41).
2. Remove the tie-rod end from the rack end.
3. Remove the ball joint boot from the tie-rod end, and wipe the old grease off the ball pin.
4. Pack the lower area of the ball pin (A) with fresh multipurpose grease.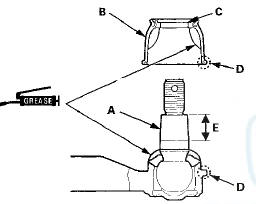 5. Pack the interior of the new ball joint boot (B) and lip (C) with fresh multipurpose grease.
Note these items when installing new grease: -Keep grease off the boot mounting area (D) and the tapered section (E) of the ball pin.
-Do not allow dust, dirt, or other foreign materials to enter the boot.
6. Install the ball joint boot (A) using the bearing driver attachment. The boot must not have a gap at the boot installation sections (B). After installing the boot, check the ball pin tapered section for grease contamination, and wipe it if necessary.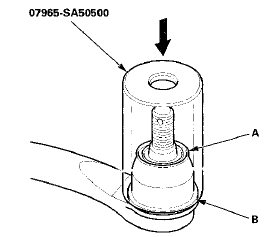 7. Install the tie-rod end to the rack end.
8. Connect the tie-rod end ball joint to the knuckle (see step 32 on page 17-64).
9. Check the wheel alignment, and adjust it if necessary (see page 18-5).
Special Tools Required Locknut Wrench, 40 mm 07MAA-SL00100 or Locknut Wrench, 41 mm 07916-SA50001 1. Set the front wheels in the straight ahead position. 2. Loosen the rack guide screw locknut ( ...
1. Remove the steering gearbox (see page 17-37). 2. Position a 40 mm socket (A) on the flange part of the gearbox housing with a washer (B), a 10 x 150 mm flange bolt (C), and a 10 mm nut (D) as ...
See also:
DTC Troubleshooting
DTC B1280: Turn Signal Switch Circuit Malfunction NOTE: If you are troubleshooting multiple DTCs, be sure to follow the instructions in B-CAN System Diagnosis Test Mode A (see page 22-134). 1. ...
Trunk Lid Latch Replacement
Special Tools Required KTC Trim Too! Set SOJATP2014* *Available through the Honda Tool and Equipment Program; call 888-424-6857 NOTE: - Put on gloves to protect your hands. - Take care not t ...
Changing the Engine Oil and Filter
Always change the oil and filter according to the maintenance messages shown on the information display. The oil and filter collect contaminants that can damage your engine if they are not r ...