Honda Accord: Gearbox Mount Cushion Replacement
1. Remove the steering gearbox (see page 17-37).
2. Position a 40 mm socket (A) on the flange part of the gearbox housing with a washer (B), a 10 x 150 mm flange bolt (C), and a 10 mm nut (D) as shown.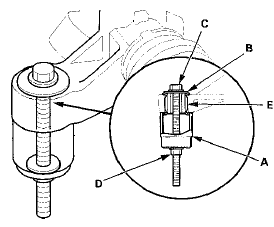 3. Hold the flange bolt with a wrench, and tighten the nut with a wrench. Remove the gearbox mount cushion ( E ) .
4. Apply a mild soap and water solution to the new gearbox mount cushion surface (A), then place the mount cushon on the gearbox mounting cushion hole.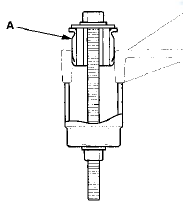 5. Position a 40 mm socket on the flange part of the gearbox housing with a washer, a flange bolt, and a nut as shown.
6. Install the gearbox mount cushion by tightening the nut until the mount cushion edge (A) properly fits on the gearbox flange surface (B).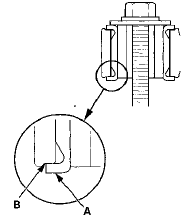 7. Install the steering gearbox (see page 17-60).
Special Tools Required Bearing Driver Attachment, 36 07965-SA50500 1 Disconnect the tie-rod end ball joint from the knuckle (see step 26 on page 17-41). 2. Remove the tie-rod end from the rack e ...
See also:
Fluid Replacement
Check the reservoir (A) at regular intervals, and add the recommended fluid as necessary. Always use Honda Power Steering Fluid. Using any other type of power steering fluid or automatic transmissi ...
Exhaust Gas Hazard
Carbon Monoxide Gas The engine exhaust from this vehicle contains carbon monoxide, a colorless, odorless, and highly toxic gas. As long as you properly maintain your vehicle, carbon monoxide ga ...
Technical Information
The diagrams in this section give you the dimensions and capacities of your vehicle and the locations of the identification numbers. It also includes information you should know about your v ...