Honda Accord: Shift Lock Release
This allows you to move the shift lever out of Park if the normal method of pushing on the brake pedal and pressing the release button does not work.
1. Set the parking brake.
2. Remove the key from the ignition switch.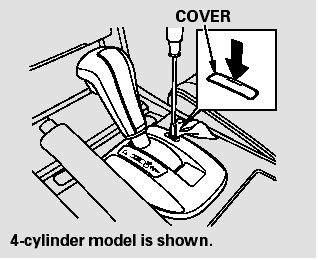 3. Put a cloth on the edge of the shift lock release slot cover to prevent scratches. Use a small flat-tip screwdriver or metal fingernail file to carefully pry up the edge of the cover and remove it from the slot.
4. Insert the key in the shift lock release slot.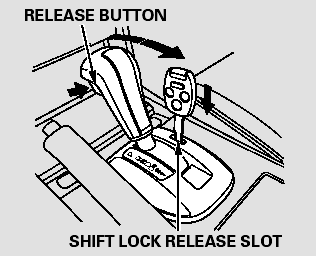 5. Push down on the key while you press the release button on the front of the shift lever and move the shift lever out of Park to neutral.
6. Remove the key from the shift lock release slot, then reinstall the cover. Make sure the notch on the cover is on the right side. Insert the key into the ignition switch, press the brake pedal, and restart the engine.
If you need to use the shift lock release, it means your vehicle is developing a problem. Have it checked by your dealer.
If you exceed the maximum speed for the gear you are in, the engine speed will enter into the tachometer's red zone. If this occurs, you may feel the engine cut in and out. This is caused by ...
See also:
Turn Signals and Headlights
1. Turn signal 2. Off 3. Parking and indicator lights 4. AUTO* 5. Headlights on 6. High beams 7. Flash high beams 8. Fog lights off* 9.Fog lights on* *:If equipped Turn Signal - P ...
Idler Gear Shaft Removal and Installation
1. Remove the snap ring (A), the cotter retainer (B), and the 17 mm cotters (C). Do not distort the snap ring. 2. Remove the idler gear shaft/idler gear assembly (D) from the transmission housing ...
Advice for Pregnant Women
If you are pregnant, the best way to protect yourself and your unborn child when driving or riding in a vehicle is to always wear a seat belt, and keep the lap part of the belt as low as p ...