Honda Accord: Shift Lever Housing Replacement
NOTE: - Use the appropriate tool from the KTC trim tool set to avoid damage when removing components.
- Take care not to scratch the center console, dashboard, and related parts.
1. Remove the center console panel (see page 20-157).
2. Remove the harness clamps.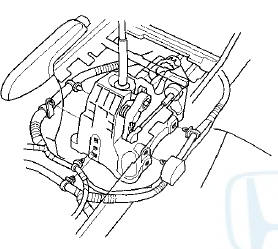 3. Remove the cotter pin (A), the washer (B), and the bolts.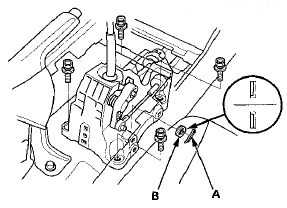 4. Unlock the retainer lock (A).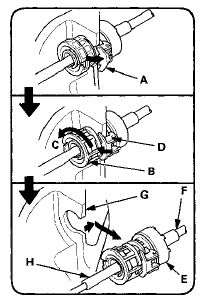 5. Rotate the socket holder retainer (B) counterclockwise (C) until it stops, and push the retainer lock (D) into the socket holder retainer to lock the retainer.
6. Slide the socket holder (E) and the shift cable (F) out of the shift cable bracket (G). Do not remove the shift cable by pulling the shift cable guide (H).
7. Remove the shift lever assembly (A) from the shift cables (B).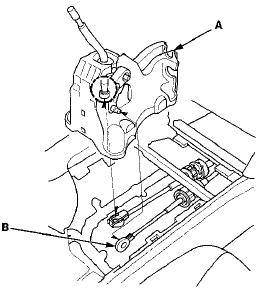 8. Align the socket holder (A) on the shift cables (B) with the slot in the bracket base (C), then slide the holder into the base. Install the shift cable ends (D) to the shift lever assembly (E) then install the shift lever assembly.
NOTE; When installing the shift cable (shift lever side), position the serrated side (F) facing up.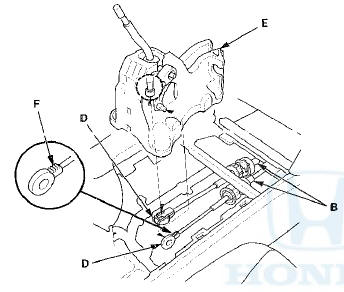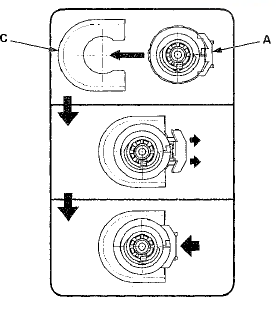 9. Install the bolts, the washer (A), and the cotter pin (B), then bend the cotter pin ends.
NOTE: You can install a new cotter pin from either direction.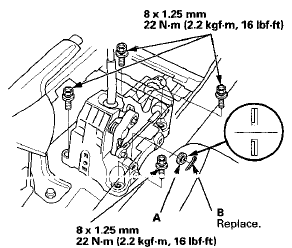 10. Install the harness clamps.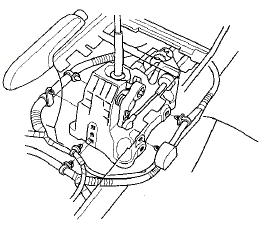 11. Install the center console panel (see page 20-157).
NOTE: Make sure not to get any silicone grease on the terminal part of the connectors and switches, especially if you have silicone grease on your hands or gloves. ...
See also:
Function Test
NOTE: The right power mirror is controlled by the front passenger's power w i n d o w s w i t c h . W h e n t h e power mirror s w i t c h is o p e r a t e d , t h e d o o r m u l t i p l e x c o n ...
Transmission Fluid Pressure Switch B (3rd Clutch) Replacement
1. Raise the vehicle on a lift, or apply the parking brake, block both rear wheels, and raise the front of the vehicle. Make sure it is securely supported. 2. Remove the splash shield. 3. Disc ...
A Few Words About Safety
Your safety, and the safety of others, is very important. And operating this vehicle safely is an important responsibility. To help you make informed decisions about safety, we have provided op ...