Honda Accord: Gearshift Mechanism Replacement
NOTE: Make sure not to get any silicone grease on the terminal part of the connectors and switches, especially if you have silicone grease on your hands or gloves.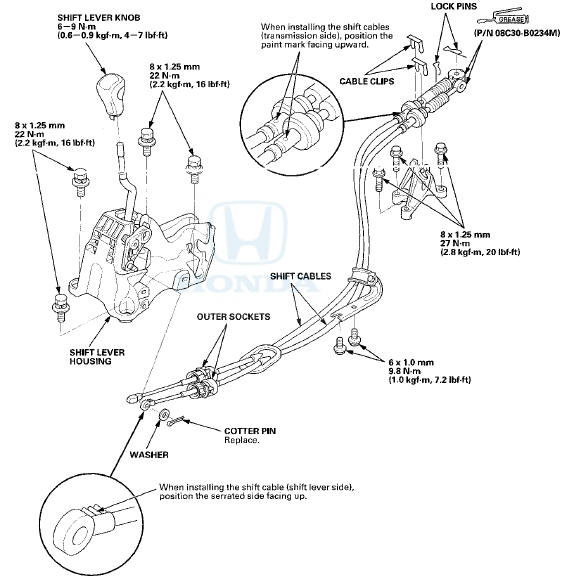 NOTE: Prior to reassembly, clean all the parts in solvent, dry them, and apply MTF to any contact surfaces. 1. Install the magnet (A) and the differential assembly (B). NOTE: Clean the magnet ...
NOTE: - Use the appropriate tool from the KTC trim tool set to avoid damage when removing components. - Take care not to scratch the center console, dashboard, and related parts. 1. Remove th ...
See also:
Turn Signals and Headlights
1. Turn signal 2. Off 3. Parking and indicator lights 4. AUTO* 5. Headlights on 6. High beams 7. Flash high beams 8. Fog lights off* 9.Fog lights on* *:If equipped Turn Signal - P ...
Clutch Replacement
Special Tools Required - Clutch Alignment Disc 07JAF-PM7011A - Ring Gear Holder 07LAB-PV00100 or 07924-PD20003 - Clutch Alignment Tool Set 07PAF-0020000 - Clutch Alignment ...
Fan Controls
Component Location Index Symptom Troubleshooting Index '08-09 models 10 model Circuit Diagram '08-09 models '10 model Radiator Fan Circuit Troubleshooting '08-09 models 1 ...