Honda Accord: Gearshift Mechanism Replacement
NOTE: Make sure not to get any silicone grease on the terminal part of the connectors and switches, especially if you have silicone grease on your hands or gloves.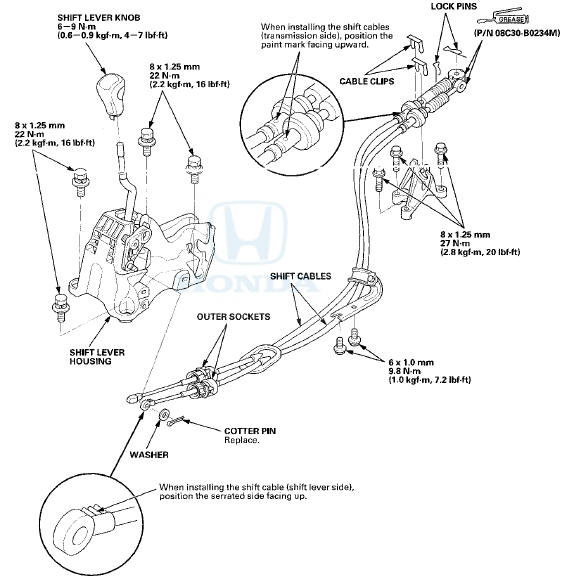 NOTE: Prior to reassembly, clean all the parts in solvent, dry them, and apply MTF to any contact surfaces. 1. Install the magnet (A) and the differential assembly (B). NOTE: Clean the magnet ...
NOTE: - Use the appropriate tool from the KTC trim tool set to avoid damage when removing components. - Take care not to scratch the center console, dashboard, and related parts. 1. Remove th ...
See also:
Winter Tires
If driving on snowy or frozen roads, mount all season marked M+S tires, snow tires, or tire chains; reduce speed; and maintain sufficient distance between vehicles when driving. Be particularly ...
Engine Oil Additives
Your vehicle does not require any oil additives. Additives may adversely affect the engine or transmission performance and durability. ...
Power Steering Fluid
Check the level on the side of the reservoir when the engine is cold. The fluid should be between the UPPER LEVEL and LOWER LEVEL. If not, add power steering fluid to the UPPER LEVEL. Pou ...