Honda Accord: Rear Wheelhouse Gusset Replacement
4-door
NOTE: - Put on gloves to protect your hands.
- Take care not to scratch the body or the related parts.
1. Remove these items: - Rear seat-back (see page 20-239) - Rear seat side bolster, 4-door (see page 20-242) - Trunk side trim panel (see page 20-132) - Rear wheelhouse insulator, as needed (see page 20-132) 2. Detach the wire harness clips (A), and remove the bolts (B), then remove the rear wheelhouse gusset (C).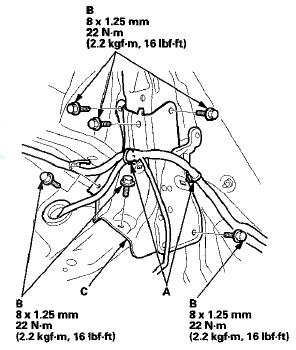 3. Install the gusset in the reverse order of removal.
Strut Brace Replacement 1. Remove the cowl cover (see page 20-278). 2. Disconnect the brake booster vacuum hose (A) from the strut brace (B). 3. Remove the nuts from the top of the damper, and ...
2-door NOTE: Take care not to scratch the body. 1. Remove the rear side trim panel (see page 20-127). 2. Pull back the rear part of the carpet as needed. 3. Remove the bolts (A, B), then rem ...
See also:
Parking Your Vehicle
Do not park your vehicle near flammable objects, such as dry grass, oil, or timber. Heat from the exhaust can cause a fire. When Stopped 1. Depress the brake pedal firmly. 2. Firmly apply the p ...
Drive Belt Auto-tensioner Removal/Installation
1. Remove the drive belt (see page 4-30). 2. Remove the power steering (P/S) fluid reservoir from the holder. 3. Remove the P/S pump (A) without disconnecting the P/S hoses, then remove the P/ ...
Transmission Removal
Special Tools Required - Engine Support Hanger, A and Reds AAR-T1256* - Engine Hanger Adapter VSB02C000015* - Subframe Adapter VSB02C000016* *: Are available through the Honda Tool and Equipme ...