Honda Accord: Frame Brace Replacement
Strut Brace Replacement
1. Remove the cowl cover (see page 20-278).
2. Disconnect the brake booster vacuum hose (A) from the strut brace (B).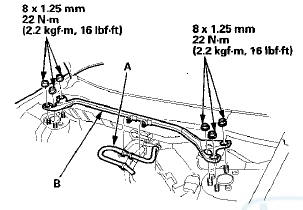 3. Remove the nuts from the top of the damper, and remove the strut brace.
4. install the strut brace in the reverse order of removal.
4-door NOTE: - Put on gloves to protect your hands. - Take care not to scratch the body or the related parts. 1. Remove these items: - Rear seat-back (see page 20-239) - Rear seat side bolst ...
See also:
Tire Pressure Monitoring System (TPMS) - Required Federal Explanation
Each tire, including the spare (if provided), should be checked monthly when cold and inflated to the inflation pressure recommended by the vehicle manufacturer on the vehicle placard or tir ...
Transmission Disassembly
Exploded View-Clutch Housing 1.DIFFERENTIAL ASSEMBLY 2.SHIFT FORK ASSEMBLY 3.6 mm FLANGE BOLT 13 N-m (1.3 kgf-m, 9.4 Ibf-ft) 4.BEARING SET PLATE 5.COUNTERSHAFT ASSEMBLY 6.NEEDLE BEARING 7.OI ...