Honda Accord: Rear Bumper Finisher Cover Replacement
2-door
NOTE: - Put on gloves to prevent damage.
- Take care not to scratch the rear bumper or the body.
- When prying with a flat-tip screwdriver, wrap it with protective tape to prevent damage.
1. Remove the screw and detach the clips. Pull the rear bumper finisher cover (A) forward to release the hooks (B), then remove the cover from the rear bumper (C).
NOTE: To release the clips, pry up on the center pin at the notch <D).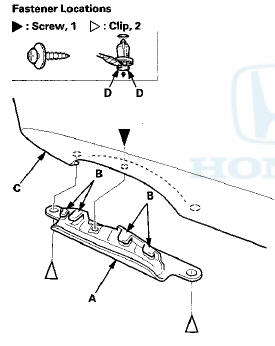 2. Install the cover in the reverse order of removal, and note these items: - If the clips are damaged or stress-whitened, replace them with new ones.
- Push the clips into place securely.
NOTE: - Have an assistant help you when removing and installing the rear bumper. - Take care not to scratch the rear bumper or the body. - Put on gloves to protect your hands. - When prying ...
See also:
Engine Installation
Special Tools Required - Universal Lifting Eyelet 07AAK-SNAA120 Engine Hanger Adapter VSB02C000015 Engine Support Hanger, A and Reds AAR-T-1256* Subframe Adapter VSB02C000016 Subframe Alignment P ...
Fuel Recommendation
Your vehicle is designed to operate on unleaded gasoline with a pump octane number of 87 or higher. Use of a lower octane gasoline can cause a persistent, heavy metallic rapping noise that c ...
Anti-lock Brakes (ABS)
The anti-lock brake system (ABS) helps prevent the wheels from locking up, and helps you retain steering control by pumping the brakes rapidly, much faster than a person can do it. The elec ...