Honda Accord: Yaw Rate-Lateral Acceleration Sensor Replacement
NOTE: - Do not damage or drop the sensor as It Is sensitive.
- Do not use power tools when replacing the sensor.
1. Turn the ignition switch to LOCK (0).
2. Remove the center console (see page 20-158).
3. Disconnect the yaw rate-lateral acceleration sensor 5P connector (A), then remove the yaw rate-lateral acceleration sensor (B).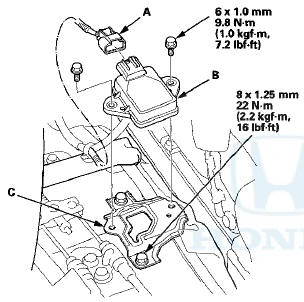 4. Check for deformation in the bracket (C). If necessary replace it.
5. Install the yaw rate-lateral acceleration sensor in the reverse order of removal.
6. Do the VSA sensor neutral position memorization (see page 19-133).
SRS components are located In this area. Review the SRS component locations: 4-door (see page 24-21), 2-door (see page 24-23) and the precautions and procedures (see page 24-25). NOTE: Do not da ...
NOTE: Do not press the brake pedal during this procedure. 1. Park the vehicle on a flat and level surface, with the steering wheel in the straight ahead position. 2. With the ignition switch i ...
See also:
Replacing a Fog Light Bulb
If equipped Your vehicle uses halogen light bulbs. When replacing a bulb, handle it by its plastic case, and protect the glass from contact with your skin or hard objects. If you touch the gl ...
Glass Weatherstrip Replacement
1 . Remove the moonroof glass (see page 20-91). 2. Place a piece of masking tape (A) on the middle of the front edge of the moonroof glass (B). Make sure that the tape is on the glass only, and i ...
To Stop Playing a Disc
To take the system out of disc mode, press the FM/AM button, the button, or the AUX button (if an appropriate unit is connected). To return to disc mode, press the CD button. You can also ...