Honda Accord: Yaw Rate-Lateral Acceleration Sensor Replacement
NOTE: - Do not damage or drop the sensor as It Is sensitive.
- Do not use power tools when replacing the sensor.
1. Turn the ignition switch to LOCK (0).
2. Remove the center console (see page 20-158).
3. Disconnect the yaw rate-lateral acceleration sensor 5P connector (A), then remove the yaw rate-lateral acceleration sensor (B).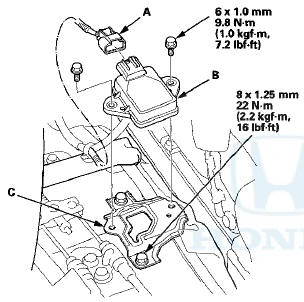 4. Check for deformation in the bracket (C). If necessary replace it.
5. Install the yaw rate-lateral acceleration sensor in the reverse order of removal.
6. Do the VSA sensor neutral position memorization (see page 19-133).
SRS components are located In this area. Review the SRS component locations: 4-door (see page 24-21), 2-door (see page 24-23) and the precautions and procedures (see page 24-25). NOTE: Do not da ...
NOTE: Do not press the brake pedal during this procedure. 1. Park the vehicle on a flat and level surface, with the steering wheel in the straight ahead position. 2. With the ignition switch i ...
See also:
DTC Troubleshooting
DTC 11,13,15,17: Tire Low Air Pressure NOTE: If low tire pressure is detected, the TPMS control unit sets one or more of these DTCs, and turns on the low tire pressure indicator. If the low tire pr ...
Intake Air Resonator Removal / Installation
1. Do the battery removal procedure (see page 22-92). 2. Remove the air cleaner (see page 11-332). 3. Remove the battery base (A) 4. Remove the front grille cover. - 2-door (see page 2 ...
Remote Transmitter Care
Replacing the Button Battery If the indicator does not come on when the button is pressed, replace the battery. NOTICE An improperly disposed of battery can damage the environment. Always confi ...