Honda Accord: Steering Angle Sensor Replacement
SRS components are located In this area. Review the SRS component locations: 4-door (see page 24-21), 2-door (see page 24-23) and the precautions and procedures (see page 24-25).
NOTE: Do not damage or drop the combination switch as the steering angle sensor is sensitive to shock and vibration.
1. With the wheels in the straight ahead position and the steering wheel centered, remove the steering wheel (see page 17-6).
2. Remove the steering column covers (see page 20-181) and the cable reel (see page 24-225).
3. Remove the combination switch assembly (see step 7 on page 17-11).
4. Remove the combination light switch (A) and the wiper/washer switch (B) from the combination switch body assembly (C).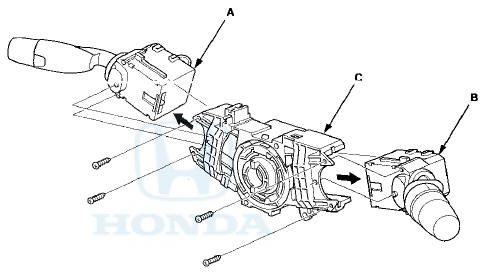 5. Install the combination switch body assembly in the reverse order of removal.
NOTE: - Do not remove the steering angle sensor from the combination switch body.
- When installing the cable reel, set the turn signal canceling sleeve position so that the arrow points straight up (see page 24-226).
- Note that the tightening order is specified for the combination switch mounting screws (see page 17-12).
VSA activation indicator does not go off, and no DTCs are stored NOTE: If the VSA modulator was replaced prior to the activation indicator turning on, do the VSA sensor neutral position memorizati ...
NOTE: - Do not damage or drop the sensor as It Is sensitive. - Do not use power tools when replacing the sensor. 1. Turn the ignition switch to LOCK (0). 2. Remove the center console (see ...
See also:
Hood insulator Replacement
For Some Models NOTE; Take care not to scratch the hood. 1. Detach the clips with a clip remover. Remove the hood insulator (A) by pulling it away from the hooks (B). 2. Install the ins ...
Evaporator Core Replacement
1. Recover the refrigerant with a recovery/recycIing/charging station (see page 21-80). 2. Remove the bolt from the A/C line clamp (A). 3. Remove the bolt, then disconnect the A/C line (A) fro ...
Voice Control Switch Test
1. Remove the voice control switch (see page 17-7). 2. Measure the resistance between terminals No. 2 and No. 4 in each switch position according to the table. 3. If the resistance is not as sp ...