Honda Accord: Power Steering Hose, Line, and Pressure Switch Replacement
Note these items during installation: -Connect each hose to the corresponding line securely until it contacts the stop on the line. Install the clamp or adjustable clamp at the specified distance from the hose end as shown.
-Check all clamps for deterioration or deformation; replace the clamps with new ones if necessary.
-Add the recommended power steering fluid to the specified level on the reservoir, and check for leaks.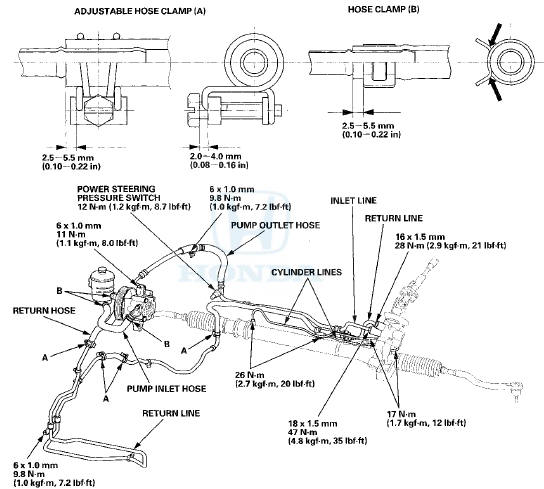 Check the reservoir (A) at regular intervals, and add the recommended fluid as necessary. Always use Honda Power Steering Fluid. Using any other type of power steering fluid or automatic transmissi ...
1. Place a suitable container under the vehicle to catch any spilled fluid. 2. Drain the power steering fluid from the reservoir (see page 17-28). 3. Remove the drive belt (A) from the pump pu ...
See also:
Multi-Information Display
The multi-information display shows the odometer, trip meter, outside temperature indicator, and other gauges. It also displays important messages such as warnings and other helpful informati ...
Fuel Cap Adapter Replacement
NOTE: - Put on gloves to protect your hands. - Take care not to scratch the body. 1. Remove the fuel pipe protector (see page 20-294). 2. Remove the fuel cap (A) by turning it counterclockw ...
Controls
This chapter explains how to operate the various controls necessary for driving. ...