Honda Accord: Cam Chain Case Oil Seal Installatio
Special Tools Required
Driver Handle, 15 x 135L 07749-0010000
Attachment, 52 x 55 mm 07746-0010400
1. Clean and dry the crankshaft oil seal.
2. Apply a light coat of new engine oil to the lip of the chain case oil seal.
3. Use the driver handle, 15 x 135L and the attachment, 52 x 55 mm to drive a new oil seal squarely into the chain case to the specified installed height.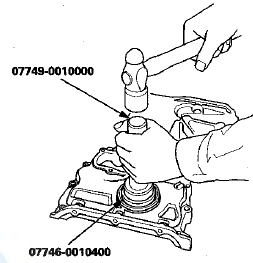 4. Measure the distance between the chain case surface (A) and the oil seal (B).
Oil Seal Installed Height:
32.4-33.1 mm (1.28-1.30 in)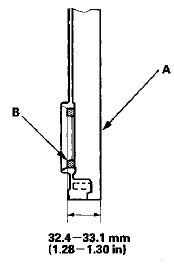 Removal 1.Remove the chain case cover 2. Turn the crankshaft counterclockwise to compress the auto-tensioner. 3. Align the holes on the lock (A) and the auto-tensioner (B), then insert a 1.2 ...
Special Tools Required Cam Chain inspection Gauge 07AAJ-RWCA100 1. Remove the front wheels. 2. Remove the splash shield (see step 25 on page 5-5). 3. Remove the cylinder head cover (see page 6 ...
See also:
A/F Sensor Replacement
Special Tools Required 02 Sensor Wrench Snap-on S6176 or equivalent, commercially available 1. Disconnect the A/F sensor 4P connector (A), then remove the A/F sensor (B). 2. Install the parts i ...