Honda Accord: Cam Chain Case Oil Seal Installatio
Special Tools Required
Driver Handle, 15 x 135L 07749-0010000
Attachment, 52 x 55 mm 07746-0010400
1. Clean and dry the crankshaft oil seal.
2. Apply a light coat of new engine oil to the lip of the chain case oil seal.
3. Use the driver handle, 15 x 135L and the attachment, 52 x 55 mm to drive a new oil seal squarely into the chain case to the specified installed height.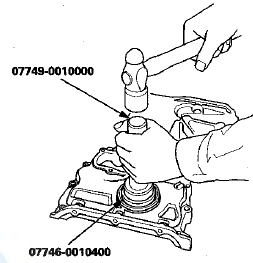 4. Measure the distance between the chain case surface (A) and the oil seal (B).
Oil Seal Installed Height:
32.4-33.1 mm (1.28-1.30 in)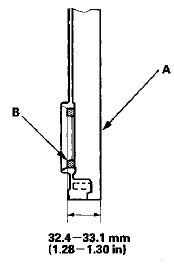 Removal 1.Remove the chain case cover 2. Turn the crankshaft counterclockwise to compress the auto-tensioner. 3. Align the holes on the lock (A) and the auto-tensioner (B), then insert a 1.2 ...
Special Tools Required Cam Chain inspection Gauge 07AAJ-RWCA100 1. Remove the front wheels. 2. Remove the splash shield (see step 25 on page 5-5). 3. Remove the cylinder head cover (see page 6 ...
See also:
Selector Knob
Most audio system functions can be controlled by standard buttons, bars, and knobs. In addition, you can access some functions by using the selector knob on the audio system. The knob turns ...
Circuit Diagram
...
Master Cylinder Inspection
1. Remove the master cylinder (see page 19-26). 2. Inspect and note these items: - Before reassembling, check that all parts are free of dirt and other foreign particles. - Do not try to disas ...