Honda Accord: Installing a Child Seat with a Tether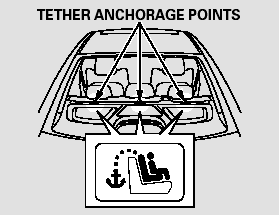 A child seat with a tether can be installed in any seating position in the back seat, using one of the anchorage points shown above.
Since a tether can provide additional security to the lap/shoulder belt installation, we recommend using a tether whenever one is required or available.
Using an Anchor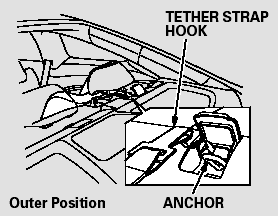 1. After properly securing the child seat, lift the head restraint, then route the tether strap over the seat-back and through the head restraint legs.
2. Lift the cover, then attach the tether strap hook to the anchor, making sure the strap is not twisted.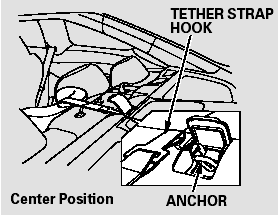 3. Tighten the strap according to the seat maker's instructions.
When not using the LATCH system, all child seats must be secured to the vehicle with the lap part of a lap/ shoulder belt. In addition, the lap/shoulder belts in all seating positions except ...
When a child reaches the recommended weight or height limit for a forward-facing child seat, the child should sit in a back seat on a booster seat and wear the lap/ shoulder belt. The follo ...
See also:
Front Passenger's Power Window Switch Replacement
4-door 1. Carefully remove the front passenger's power window switch (A). 2. Disconnect the 37P connector (B) from the front passenger's power window switch. 3. Remove the four screws and th ...
Connector to Harness Index
Starter Subharness Engine Wire Harness (M/T) Engine Wire Harness ( A / T ) *1: PZEV *2: Except PZEV CKP Sensor Subharness Shift Solenoid Wire Harness (A/T) Transmission Rang ...
Intermediate Shaft Installation
1. Clean the areas where the Intermediate shaft contacts the differential thoroughly with solvent, and dry then with compressed air. NOTE: Do not wash the rubber parts with solvent. 2. Install ...