Honda Accord: Hood Adjustment
1. Remove these Items: - Front grille cover: - 2-door (see page 20-274) - 4-door (see page 20-274) - Cowl covers (see page 20-278) - Hood latch cover, 4-door (see step 2 on page 20-302) 2. Slightly loosen the hood hinge mounting bolts (A) and the hood latch mounting bolts (B).
6x 1.0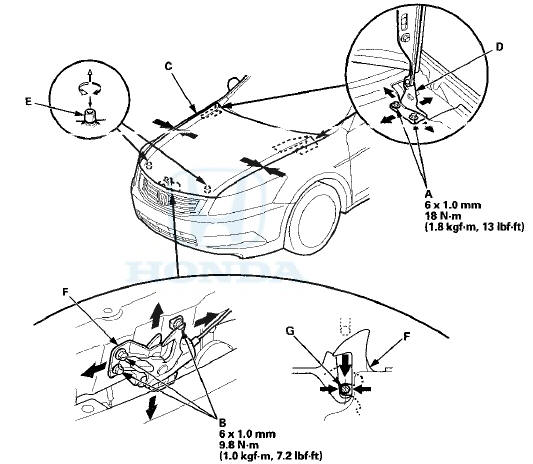 3. Adjust the hood (C) alignment in the following sequence: - Adjust the hood right and left, as well as forward and rearward, by using the elongated holes in the hood hinges (D).
- Turn the hood edge cushions (E), in or out as necessary, to make the hood fit flush with the body at the front and side edges.
4. Adjust the hood latch (F) to obtain the proper height at the forward edge, and move the latch right or left until the striker (G) is centered in the latch.
5. Tighten each bolt to the specified torque.
6. Check that the hood opens properly and closes securely.
7. Apply touch-up paint to the hinge mounting bolts and around the hinges, and let the paint dry.
8. Apply multipurpose grease to the hood latch and the hood hinges as indicated by the arrows.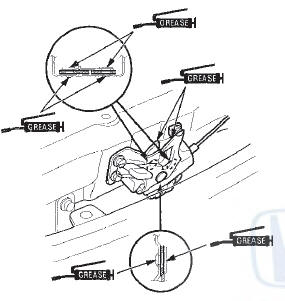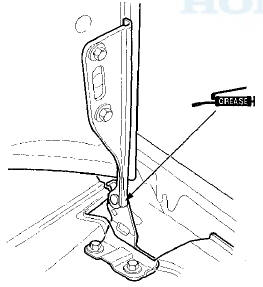 9. Reinstall all of the removed parts.
NOTE: Take care not to scratch the hood. 1. Detach the clips (A) with a clip remover, then remove the hood seal (B). On Canada models: Detach the clips (C), then remove the hood molding (D). 2-d ...
See also:
Gross VehicleWeight Rating (GVWR):
The maximum allowable weight of the vehicle, all occupants, all accessories, all cargo, and the tongue load is: U.S. models LX: 4,299 lbs (1,950 kg) EX and EX-L: 4,409 lbs (2,000 kg) V6 mo ...
Drain Channel Slider and Cable Assembly Replacement
NOTE: Put on gloves to protect your hands. 1. Remove these items: . - Headliner (see page 20-140) - Moonroof glass (see page 20-91) 2. Remove the frame (see page 20-97). 3. Remove these par ...