Honda Accord: Hood Adjustment
1. Remove these Items: - Front grille cover: - 2-door (see page 20-274) - 4-door (see page 20-274) - Cowl covers (see page 20-278) - Hood latch cover, 4-door (see step 2 on page 20-302) 2. Slightly loosen the hood hinge mounting bolts (A) and the hood latch mounting bolts (B).
6x 1.0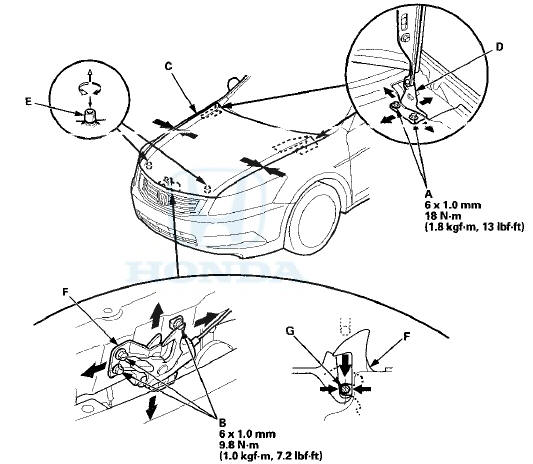 3. Adjust the hood (C) alignment in the following sequence: - Adjust the hood right and left, as well as forward and rearward, by using the elongated holes in the hood hinges (D).
- Turn the hood edge cushions (E), in or out as necessary, to make the hood fit flush with the body at the front and side edges.
4. Adjust the hood latch (F) to obtain the proper height at the forward edge, and move the latch right or left until the striker (G) is centered in the latch.
5. Tighten each bolt to the specified torque.
6. Check that the hood opens properly and closes securely.
7. Apply touch-up paint to the hinge mounting bolts and around the hinges, and let the paint dry.
8. Apply multipurpose grease to the hood latch and the hood hinges as indicated by the arrows.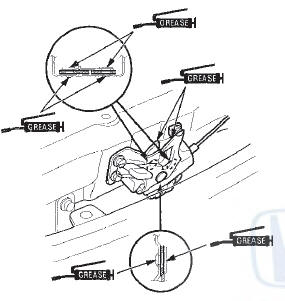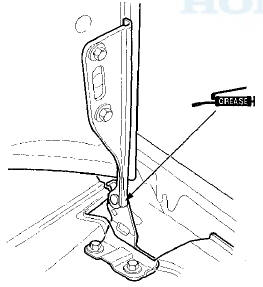 9. Reinstall all of the removed parts.
NOTE: Take care not to scratch the hood. 1. Detach the clips (A) with a clip remover, then remove the hood seal (B). On Canada models: Detach the clips (C), then remove the hood molding (D). 2-d ...
See also:
Center Display Visor Removal / Installation
Special Tools Required KTC Trim Tool Set SOJATP2014* *Available through the Honda Tool and Equipment Program; call 888-424-6857 Without Navigation System NOTE: - Take care not to scratch the d ...
A/C Condenser Fan High Speed Circuit Troubleshooting
ECM/PCM CONNECTOR A (49P) Terminal side of female terminals Is there battery voltage? YES-Go to step 6. NO-Repair an open in the wire between the under-hood fuse/relay box and the ECM/PCM. If ...
Adjusting the Sound
1. Press the SETTINGS button. 2. Rotate to select Audio Settings, then press . 3. Rotate to select Sound, then press . Rotate to scroll through the following choices: The SVC ...