Honda Accord: Ground Distribution
Ground to Components Index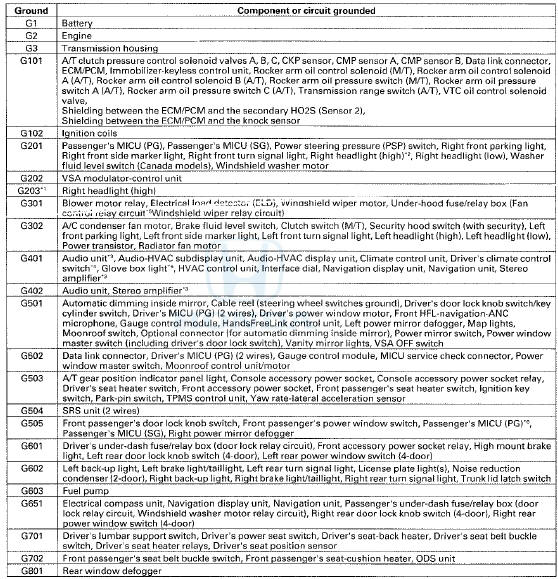 * 1 : EX-L, EX-L PZEV
*2: Except EX-L, EX-L PZEV
*3: With premium audio system
*4: With navigation system
*5: '10 model
*6: '08-09 models
Fuse to Components Index Under-hood Fuse/Relay Box * 1 : LX, LX PZEV, LX-P, LX-P PZEV *2: Except LX, LX PZEV, LX-P, LX-P PZEV Driver's Under-dash Fuse/Relay Box Passenger's Under-dash Fus ...
Removal and Installation Special Tools Required Relay Puller 07AAC-000A1A0 NOTE; The under-hood fuse/relay box is a part of the left engine compartment wire harness, and it cannot be replaced by ...
See also:
Fuel Gauge
This shows how much fuel you have. It may show slightly more or less than the actual amount. The needle returns to the bottom after you turn off the ignition. Avoid driving with an extremely ...
Rear Door Sash Inner Trim Replacement
4-door NOTE: Take care not to scratch the door. 1. Remove the door panel (see page 20-38). 2. Lower the glass fully. 3. Remove the door sash inner trim (A). -1. Pull back the outside edge ...
Circuit Diagram
...