Honda Accord: Ground Distribution
Ground to Components Index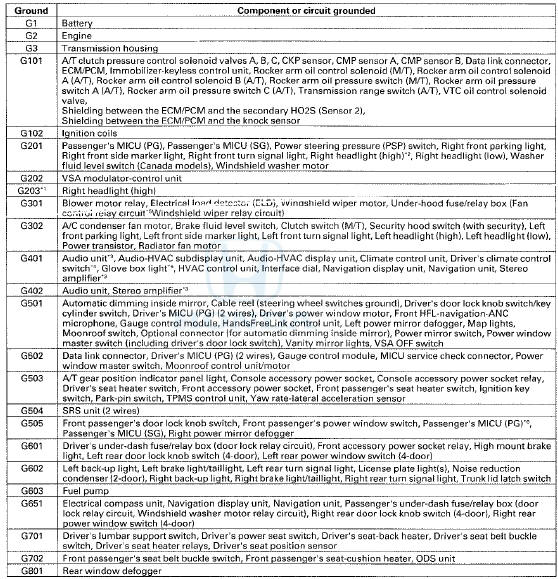 * 1 : EX-L, EX-L PZEV
*2: Except EX-L, EX-L PZEV
*3: With premium audio system
*4: With navigation system
*5: '10 model
*6: '08-09 models
Fuse to Components Index Under-hood Fuse/Relay Box * 1 : LX, LX PZEV, LX-P, LX-P PZEV *2: Except LX, LX PZEV, LX-P, LX-P PZEV Driver's Under-dash Fuse/Relay Box Passenger's Under-dash Fus ...
Removal and Installation Special Tools Required Relay Puller 07AAC-000A1A0 NOTE; The under-hood fuse/relay box is a part of the left engine compartment wire harness, and it cannot be replaced by ...
See also:
Upper Arm Replacement
Special Tools Required -Ball Joint Thread Protector, 10 mm 07AAF-SECA120 - Ball Joint Remover, 28 mm 07MAC-SL0A202 1. Raise and support the vehicle (see page 1-13). 2. Remove the front wheel. ...
Symptom Troubleshooting Index
...
Air Cleaner Removal/Installation
1. Disconnect the MAF sensor/IAT sensor connector (A). 2. Remove the harness clamps (B) and the bolts (C). 3. Loosen the band (D), then remove the air cleaner housing (E). 4. Install the par ...