Honda Accord: Ground Distribution
Ground to Components Index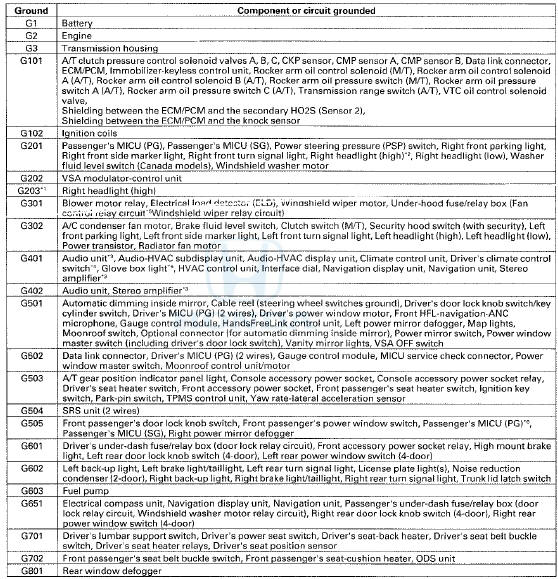 * 1 : EX-L, EX-L PZEV
*2: Except EX-L, EX-L PZEV
*3: With premium audio system
*4: With navigation system
*5: '10 model
*6: '08-09 models
Fuse to Components Index Under-hood Fuse/Relay Box * 1 : LX, LX PZEV, LX-P, LX-P PZEV *2: Except LX, LX PZEV, LX-P, LX-P PZEV Driver's Under-dash Fuse/Relay Box Passenger's Under-dash Fus ...
Removal and Installation Special Tools Required Relay Puller 07AAC-000A1A0 NOTE; The under-hood fuse/relay box is a part of the left engine compartment wire harness, and it cannot be replaced by ...
See also:
Rear Safing Sensor Replacement
Removal 1. Do the battery t e r m i n a l disconnection p r o c e d u r e (see page 22-91), t h e n wait at least 3 minutes before starting w o r k . 2. Remove t h e rear seat c u s h i o n (see ...
To Select a Station
You can use any of five methods to find radio stations on the selected band: tune, skip (seek), scan, the preset buttons, and auto select. On the FM band, you can also use the features provid ...
Oil Check
Wait a few minutes after turning the engine off before you check the oil. 1. Remove the dipstick (orange handle/loop). 2. Wipe off the dipstick with a clean cloth or paper towel. 3. Inser ...