Honda Accord: Ground Distribution
Ground to Components Index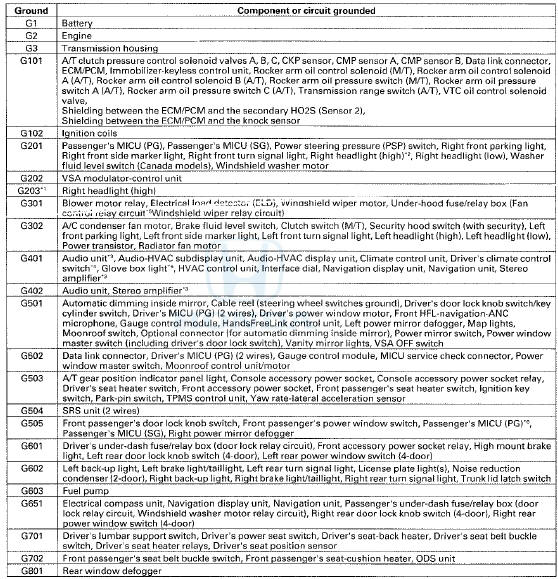 * 1 : EX-L, EX-L PZEV
*2: Except EX-L, EX-L PZEV
*3: With premium audio system
*4: With navigation system
*5: '10 model
*6: '08-09 models
Fuse to Components Index Under-hood Fuse/Relay Box * 1 : LX, LX PZEV, LX-P, LX-P PZEV *2: Except LX, LX PZEV, LX-P, LX-P PZEV Driver's Under-dash Fuse/Relay Box Passenger's Under-dash Fus ...
Removal and Installation Special Tools Required Relay Puller 07AAC-000A1A0 NOTE; The under-hood fuse/relay box is a part of the left engine compartment wire harness, and it cannot be replaced by ...
See also:
Checking the Engine
If the engine does not start, check the starter. If you must start the vehicle immediately, use an assisting vehicle to jump start it. ...
Engine Number and TransmissionNumber
See the image below for the locations of your vehicle's engine number and transmission number. ...
Voice Control Switch Test
1. Remove the voice control switch (see page 17-7). 2. Measure the resistance between terminals No. 2 and No. 4 in each switch position according to the table. 3. If the resistance is not as sp ...