Honda Accord: Drive Belt Removal/Installation
Special Tools Required
Belt Tension Release Tool Snap-on YA9317 or equivalent, commercially available
1. Move the auto-tensioner (A) with the belt tension release tool (B) in the direction of the rotation arrow to relieve tension from the drive belt (C), then remove the drive belt.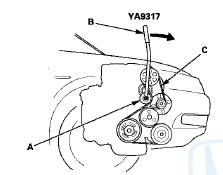 2. Install the new drive belt in the reverse order of removal.
1. Inspect the belt for cracks or damage. If the belt is cracked or damaged, replace it (see page 4-30). 2. Check the position of the auto-tensioner indicator's pointer (A) is within the standard ...
Special Tools Required Belt Tension Release Tool Snap-on YA9317 or equivalent, commercially available 1. Turn the ignition switch to ON (II), and make sure to turn the A/C switch OFF. Turn the ign ...
See also:
Servo Body Disassembly, Inspection, and Reassembly
1. Clean all parts thoroughly in solvent, and dry them with compressed air. Blow out all passages. 2. Inspect the valve body for scoring and damage. 3. Check shift valve D for free movement. I ...
Clutch Hose Replacement
NOTE: - Replace the clutch hose if it is twisted, cracked, or leaks. - Use fender covers to avoid damaging painted surfaces. - Do not spill brake fluid on the vehicle; it may damage the pain ...
Devices that Emit Radio Waves
The following products and systems on your vehicle emit radio waves when in operation. Each of the above complies with the appropriate requirements or the required standards of FCC (Federal Com ...