Honda Accord: Drive Belt Removal/Installation
Special Tools Required
Belt Tension Release Tool Snap-on YA9317 or equivalent, commercially available
1. Move the auto-tensioner (A) with the belt tension release tool (B) in the direction of the rotation arrow to relieve tension from the drive belt (C), then remove the drive belt.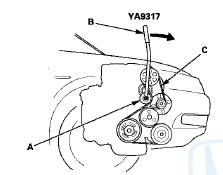 2. Install the new drive belt in the reverse order of removal.
1. Inspect the belt for cracks or damage. If the belt is cracked or damaged, replace it (see page 4-30). 2. Check the position of the auto-tensioner indicator's pointer (A) is within the standard ...
Special Tools Required Belt Tension Release Tool Snap-on YA9317 or equivalent, commercially available 1. Turn the ignition switch to ON (II), and make sure to turn the A/C switch OFF. Turn the ign ...
See also:
Automatic Transmission and A/T Differential: (cont'd)
...
Lower Arm B Replacement
1 Raise and support the vehicle (see page 1-13). 2. Remove the rear wheel. 3. Remove the lower arm B mounting bolts, then remove lower arm B. NOTE: Use new mounting bolts during reassembly. ...
Intermediate Shaft Removal
1. Drain the transmission fluid. Reinstall the drain plug using a new sealing washer: -Manual transmission (see page 13-5) -Automatic transmission (see page 14-192) 2. Remove the right driveshaft ...