Honda Accord: Drive Belt Removal/Installation
Special Tools Required
Belt Tension Release Tool Snap-on YA9317 or equivalent, commercially available
1. Move the auto-tensioner (A) with the belt tension release tool (B) in the direction of the rotation arrow to relieve tension from the drive belt (C), then remove the drive belt.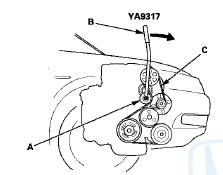 2. Install the new drive belt in the reverse order of removal.
1. Inspect the belt for cracks or damage. If the belt is cracked or damaged, replace it (see page 4-30). 2. Check the position of the auto-tensioner indicator's pointer (A) is within the standard ...
Special Tools Required Belt Tension Release Tool Snap-on YA9317 or equivalent, commercially available 1. Turn the ignition switch to ON (II), and make sure to turn the A/C switch OFF. Turn the ign ...
See also:
Rear Door Latch Replacement
4-door NOTE: Put on gloves to protect your hands. 1. Remove the door panel and the inner handle (see page 20-38). 2. Remove the plastic cover as needed (see step 3 on page 20-42). 3. Detac ...
CKP Pulse Plate Replacement
1. Remove the crankshaft from the engine block (see page 7-14). 2. Remove the CKP pulse plate (A) from the crankshaft. 3. Install the CKP pulse plate in the reverse order of removal. ...
Emergency Towing
If your vehicle needs to be towed, call a professional towing service or organization. Never tow your vehicle with just a rope or chain. It is very dangerous. There are two ways to tow your ...