Honda Accord: Synchronized Mode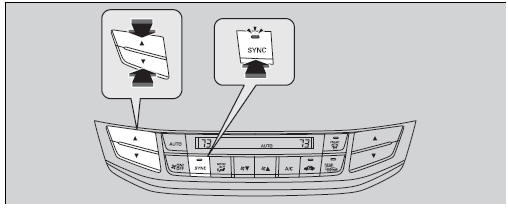 You can set the temperature synchronously for the driver side and the passenger side in synchronized mode.
1. Press the SYNC button.
- The system will switch to the synchronized mode.
2. Adjust the temperature using driver's side temperature control buttons.
Press the SYNC button to return to dual mode.
When you press the

button, the system changes to synchronized mode.
When the system is in dual mode, the driver side temperature and the passenger side temperature can be set separately.

The system adjusts each temperature based on the information of the sunlight sensor and the sun position updated by the navigation system's GPS.
The automatic climate control system maintains the interior temperature you select. The system also selects the proper mix of heated or cooled air that will as quickly as possible, raise or l ...
The automatic climate control system is equipped with a sunlight sensor and an interior temperature sensor. Do not cover or spill any liquid on them. ...
See also:
Fuse Locations
UNDER-HOOD FUSE BOX INTERIOR FUSE BOX (Driver's Side) INTERIOR FUSE BOX (Passenger's Side) ...
Playing AM/FM Radio
The ST indicator appears on the display indicating stereo FM broadcasts. Stereo reproduction in AM is not available. Switching the Audio Mode Press the SOURCE button on the steering wheel. ...
Mirror Housing Cover Replacement
1. Remove the mirror holder (see page 20-63). 2. From the mirror holder opening, release the hooks (A) of the mirror housing cover (B). 3. Release the hooks (A), then remove the mirror housing ...