Honda Accord: Circuit Diagram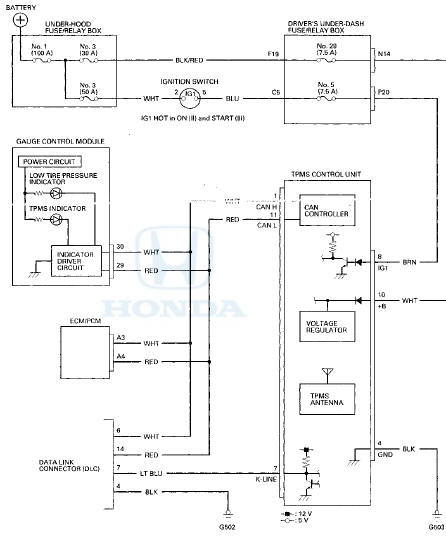 DRIVER'S UNDER-DASH FUSE/RELAY BOX CONNECTOR N (16P)

Wire side of female terminals
DRIVER'S UNDER-DASH FUSE/RELAY BOX CONNECTOR P (20P)

Wire side of female terminals
GAUGE CONTROL MODULE 32P CONNECTOR

Wire side of female terminals
TPMS CONTROL UNIT 20P CONNECTOR

Wire side of female terminals
ECM/PCM CONNECTOR A (49P)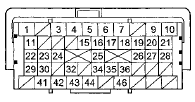 Terminal side of female terminals
DATA LINK CONNECTOR (DLC)

Terminal side of female terminals
TPMS Control Unit Inputs and Outputs for 20P Connector Wire side of female terminals System Structure Once the vehicle speed exceeds 28 mph (45 km/h), the TPMS control unit monitors all four ...
DTC 11,13,15,17: Tire Low Air Pressure NOTE: If low tire pressure is detected, the TPMS control unit sets one or more of these DTCs, and turns on the low tire pressure indicator. If the low tire pr ...
See also:
If a Tire Goes Flat
Changing a Flat Tire If a tire goes flat while driving, grasp the steering wheel firmly, and brake gradually to reduce speed. Then, stop in a safe place. Replace the flat tire with a compact ...
Checking Loads
The best way to confirmthat all loads are within limits is to check them at a public scale. For public scales in your area, check your local phone book, or contact your trailer dealer or ren ...
Features
The heating and air conditioning system in your vehicle provides a comfortable driving environment in all weather conditions. The standard audio system has many features. This section descr ...