Honda Accord: Cf Hinder Bore Honing
Only a scored or scratched cylinder bore must be honed.
1. Measure the cylinder bores (see page 7-17).
If the engine block is to be reused, hone the cylinders, and remeasure the bores.
2. Remove the oil jets (see page 8-14).
3. Hone the cylinder bores with honing oil and a fine (400 grit) stone in a 60 degree cross-hatch pattern (A).
Use only a rigid hone with 400 grit or finer stone such as Sunnen, Ammco, or equivalent. Do not use stones that are worn or broken.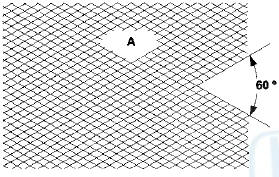 4. When honing is complete, thoroughly clean the engine block of all metal particles. Wash the cylinder bores with hot soapy water, then dry and oil them immediately to prevent rusting. Never use solvent, it will only redistribute the grit on the cylinder walls.
5. If scoring or scratches are still present in the cylinder bores after honing the engine block to the service limit, rebore the engine block. Some light vertical scoring and scratching is acceptable if it is not deep enough to catch your fingernail, and does not run the full length of the bore.
6. Install the oil jets (see page 8-14).
1. Remove the crankshaft and the pistons (see page 7-14). 2. Check the piston for distortion or cracks. 3. Measure the piston diameter at a point 13 mm (0.5 in) from the bottom of the skirt. T ...
Disassembly 1. Remove the piston from the engine block (see page 7-14). 2. Apply new engine oil to the piston pin snap rings (A), and turn them in the ring grooves until the end gaps are lined ...
See also:
Control Unit Input Test/Replacement
1. Remove the driver's dashboard lower cover (see page 20-166). 2. Remove the screws, then disconnect the 28P connector (A) from the HandsFreeLink control unit (B). 3. Inspect the connector an ...
Devices that Emit Radio Waves
The following products and systems on your vehicle emit radio waves when in operation. Each of the above complies with the appropriate requirements or the required standards of FCC (Federal Com ...