Honda Accord: Air Cleaner Element Inspection / Replacement
1. Open the air cleaner housing cover (A).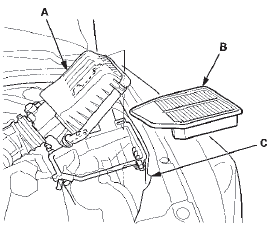 2. Remove the air cleaner element (B) from the air cleaner housing (C).
3. Check the air cleaner element for damage or clogging.
If it is damaged or clogged, replace it.
NOTE: Do not use compressed air to clean the air cleaner element.
4. Clean and remove any debris from inside the air cleaner.
5. Install the parts in the reverse order of removal.
- If you did not replace the air cleaner element, this procedure is complete.
- If the maintenance minder required air cleaner replacement, reset the maintenance minder (see page 3-7).
- If the idle speed fluctuates, do the idle speed inspection (see page 11-292).
1. Disconnect the MAF sensor/IAT sensor connector (A). 2. Remove the harness clamps (B) and the bolts (C). 3. Loosen the band (D), then remove the air cleaner housing (E). 4. Install the par ...
1. Do the battery removal procedure (see page 22-92). 2. Remove the air cleaner (see page 11-332). 3. Remove the battery base (A) 4. Remove the front grille cover. - 2-door (see page 2 ...
See also:
Damper/Spring Removal and Installation
Removal 1. Raise and support the vehicle (see page 1-13). 2. Remove the rear wheel. 3. Fold down the rear seat-back, then remove the lid (A). NOTE: For 4-door, lift up the tab (B) inside und ...
Rear Seat Cushion Cover Replacement
NOTE: -Put on gloves to protect your hands. - Take care not to tear or damage the seat covers. 1. Remove the seat cushion (see page 20-241). 2. From the back of the seat-back, release all th ...
About Your Seat Belts
Seat belts are the single most effective safety device because they keep you connected to the vehicle so that you can take advantage of many built-in safety features. They also help keep you from ...