Honda Accord: Air Cleaner Element Inspection / Replacement
1. Open the air cleaner housing cover (A).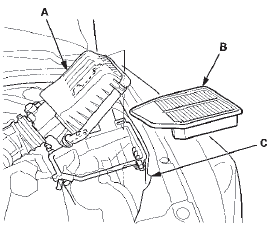 2. Remove the air cleaner element (B) from the air cleaner housing (C).
3. Check the air cleaner element for damage or clogging.
If it is damaged or clogged, replace it.
NOTE: Do not use compressed air to clean the air cleaner element.
4. Clean and remove any debris from inside the air cleaner.
5. Install the parts in the reverse order of removal.
- If you did not replace the air cleaner element, this procedure is complete.
- If the maintenance minder required air cleaner replacement, reset the maintenance minder (see page 3-7).
- If the idle speed fluctuates, do the idle speed inspection (see page 11-292).
1. Disconnect the MAF sensor/IAT sensor connector (A). 2. Remove the harness clamps (B) and the bolts (C). 3. Loosen the band (D), then remove the air cleaner housing (E). 4. Install the par ...
1. Do the battery removal procedure (see page 22-92). 2. Remove the air cleaner (see page 11-332). 3. Remove the battery base (A) 4. Remove the front grille cover. - 2-door (see page 2 ...
See also:
Driver's Seat Position Sensor Replacement
Removal (Power seat) NOTE: Do not t u r n t h e i g n i t i o n s w i t c h t o ON (II), a n d do not connect t h e battery cable w h i l e r e m o v i n g t he d r i v e r ' s seat p o s i t i o n ...
Driver's Airbag Replacement
NOTE: If replacing the driver's airbag after deployment, refer to Component Replacement/Inspection After Deployment (see page 24-208) for a complete list of. other parts that must also be replace ...
Protecting Discs
When a disc is not being played, store it in its case to protect it from dust and other contamination. To prevent warpage, keep discs out of direct sunlight and extreme heat. To clean a disc, ...