Honda Accord: Air Cleaner Removal/Installation
1. Disconnect the MAF sensor/IAT sensor connector (A).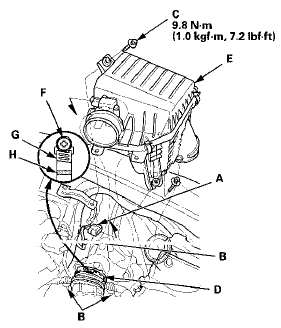 2. Remove the harness clamps (B) and the bolts (C).
3. Loosen the band (D), then remove the air cleaner housing (E).
4. Install the parts in the reverse order of removal.
NOTE: When torqueing the screw of the hose band (F), align the edge of the hose band (G) with the mark (H) painted on the hose band.
Do n o t i n s e r t : your fingers into the installed throve body when you turn the ignition switch to ON (II) or while the ignition switch is in ON (II). If you do, you will seriously injure your ...
1. Open the air cleaner housing cover (A). 2. Remove the air cleaner element (B) from the air cleaner housing (C). 3. Check the air cleaner element for damage or clogging. If it is damaged o ...