Honda Accord: Air Cleaner Removal/Installation
1. Disconnect the MAF sensor/IAT sensor connector (A).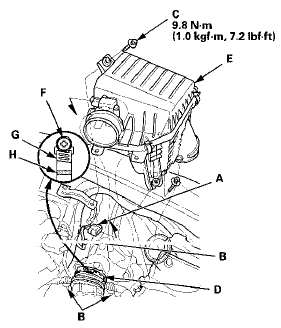 2. Remove the harness clamps (B) and the bolts (C).
3. Loosen the band (D), then remove the air cleaner housing (E).
4. Install the parts in the reverse order of removal.
NOTE: When torqueing the screw of the hose band (F), align the edge of the hose band (G) with the mark (H) painted on the hose band.
Do n o t i n s e r t : your fingers into the installed throve body when you turn the ignition switch to ON (II) or while the ignition switch is in ON (II). If you do, you will seriously injure your ...
1. Open the air cleaner housing cover (A). 2. Remove the air cleaner element (B) from the air cleaner housing (C). 3. Check the air cleaner element for damage or clogging. If it is damaged o ...
See also:
Vehicle Identification Number
Manufacturer, Make, and Type of Vehicle 1HG: Honda of America Mfg., Inc. Honda passenger vehicle Line, Body, and Engine Type CS1: Accord Coupe/K24Z3 Body Type and Transmission Type A: 2-door ...
Replacing a Headlight Bulb
Your vehicle has halogen headlight bulbs. When replacing a bulb, handle it by its base, and protect the glass from contact with your skin or hard objects. If you touch the glass, clean it wi ...
Airbag and Tensioner Disposal
Special Tools Required Deployment Tool 07HAZ-SG00500 Before scrapping any airbags, side airbags, side curtain airbags, seat belt tensioners, (including those in a whole vehicle to be scrapped), th ...