Honda Accord: Shift Fork Disassembly/Reassembly
NOTE: Prior to reassembling, clean all the parts in solvent, dry them, and apply MTF to all contact surfaces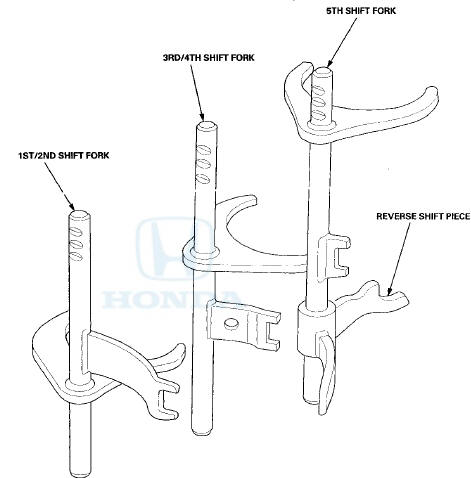 1. Measure the clearance between each shift fork (A) and its matching synchro sleeve (B). If the clearance exceeds the service limit, go to step 2. Standard: 0.35-0.65 mm (0.014-0.026 inj Service ...
1. Support the bearing Inner race with an appropriate sized socket ( A ) , and push down on the mainshaft ( B ) . 2. Measure the clearance between 2nd gear (C) and 3rd gear (D) with a feeler gaug ...
See also:
Pump Pressure Test w i th T/N 07406-0010001
Special Tools Required -Pump Joint Adapter 07RAK-S040111 or P/S Joint Adapter (pump) 07RAK-S040110 -Hose Joint Adapter 07RAK-S040122 -P/S Pressure Gauge 07406-0010001 Check the fluid pressure as ...
DTC Troubleshooting
DTC P0122: TP Sensor A Circuit Low Voltage NOTE: Before you troubleshoot, record all freeze data and any on-board snapshot, and review the general troubleshooting information (see page 11-3). 1. ...
Outside Temperature Indicator
If equipped This indicator displays the outside temperature in Fahrenheit (U.S. models) or Celsius (Canadian models). To see the outside temperature, press and release the select/reset knob ...