Honda Accord: Shift Fork Disassembly/Reassembly
NOTE: Prior to reassembling, clean all the parts in solvent, dry them, and apply MTF to all contact surfaces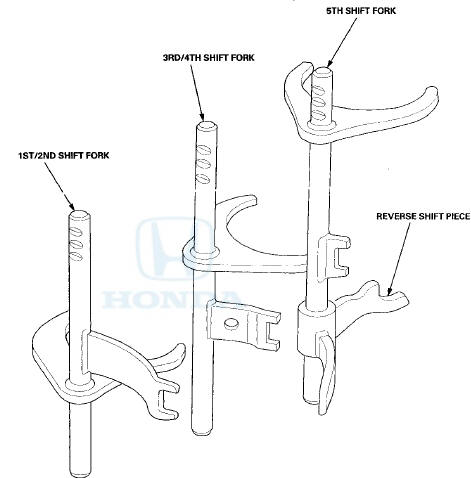 1. Measure the clearance between each shift fork (A) and its matching synchro sleeve (B). If the clearance exceeds the service limit, go to step 2. Standard: 0.35-0.65 mm (0.014-0.026 inj Service ...
1. Support the bearing Inner race with an appropriate sized socket ( A ) , and push down on the mainshaft ( B ) . 2. Measure the clearance between 2nd gear (C) and 3rd gear (D) with a feeler gaug ...
See also:
Automatic Transmission
Check the fluid level with the engine at normal operating temperature. 1. Park the vehicle on level ground. Start the engine, let it run until the radiator fan comes on, then shut off the en ...
Control Unit Input Test
NOTE: Before testing, troubleshoot the multiplex integrated control unit first, using B-CAN System Diagnosis Test Mode A (see page 22-134), and make sure the lighting system works properly. Driver ...
Mainshaft Disassembly
NOTE: Refer to the Exploded View in the Mainshaft Reassembly, as needed, when removing components pressed onto the mainshaft (see page 13-38). 1. Remove the angular ball bearing (A) and the taper ...