Honda Accord: Shift Fork Disassembly/Reassembly
NOTE: Prior to reassembling, clean all the parts in solvent, dry them, and apply MTF to all contact surfaces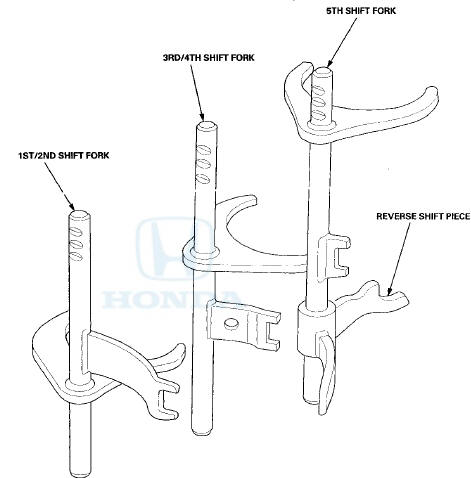 1. Measure the clearance between each shift fork (A) and its matching synchro sleeve (B). If the clearance exceeds the service limit, go to step 2. Standard: 0.35-0.65 mm (0.014-0.026 inj Service ...
1. Support the bearing Inner race with an appropriate sized socket ( A ) , and push down on the mainshaft ( B ) . 2. Measure the clearance between 2nd gear (C) and 3rd gear (D) with a feeler gaug ...
See also:
Shift Lever Disassembly/Reassembly
Type A Shift Lever NOTE: Make sure not to get any silicone grease on the terminal part of the connectors and switches, especially if you have silicone grease on your hands of gloves. Type B Shi ...
Valve, Spring, and Valve Seal Installation
Special Tools Required Stem Seal Driver, 30 mm 07PAD-0010000 Valve Spring Compressor Attachment 07757-PJ1010A 1. Coat the valve stems with new engine oil. Install the valves in the valve guides. ...
Key Interlock Solenoid Test
NOTE: SRS components are located in this area. Review the SRS component locations for 4-door (see page 24-21),for 2-door (see page 24-23), and the precautions and procedures (see page 24-25) before ...