Honda Accord: Rear Seat-back Release Lever/Cable Removal/Installation
NOTE: - Take care not to bend or scratch the interior trim.
- 4-door is shown; 2-door is similar.
1. Remove the rear shelf (see page 20-128).
2. Disconnect the seat-back release cable (A) from the seat-back latch (B), and detach the cable clip (C) (2-door) or the cable clip (D) (4-door). Take care not to damage the cable fastener (E).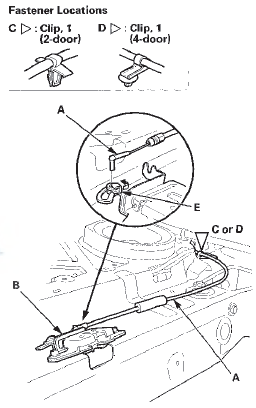 3. Open the trunk lid.
4. From the trunk compartment, push the tab (A) to release the hook (B), and slide the seat-back release lever (C) inward to release the hook (D), then remove it by pulling it out.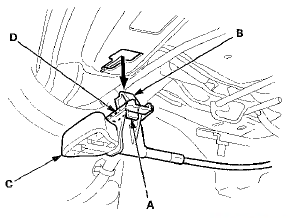 5. Install the release lever/cable in the reverse order of removal, and note these items: - If the clip is damaged or stress-whitened, replace it with a new one.
- Push the clip and the hooks into place securely.
- Make sure the release cable is connected securely.
- Make sure the seat-back locks securely and unlocks properly.