Honda Accord: Rear Seat-back Latch Replacement
NOTE: - Take care not to bend or scratch the interior trim.
- 4-door is shown; 2-door is similar.
1. Remove the rear shelf (see page 20-128).
2. Disconnect the seat-back release cable (A) from the seat-back latch (B), and remove the bolts, then remove the latch. Take care not to damage the cable fastener (C).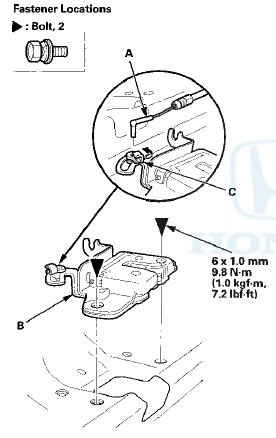 3. Install the seat-back latch in the reverse order of removal, and note these items: - Make sure the release cable is connected securely.
- Make sure the seat-back locks securely and unlocks properly.