Honda Accord: Parking Brake Cable Replacement
Exploded View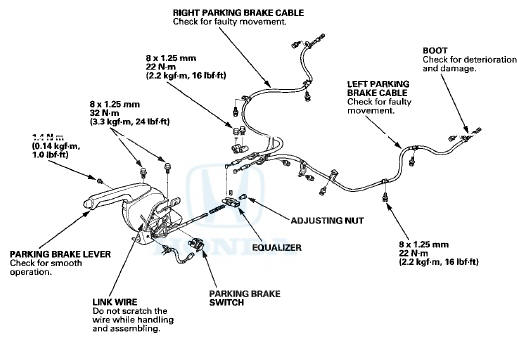 NOTE: - The parking brake cables must not be bent or distorted. This will lead to stiff operation and premature cable failure.
- Refer to the Exploded View as needed during this procedure.
1. Release the parking brake lever fully.
2. Loosen the parking brake cable adjusting nut (see page 19-8).
3. Remove the flange bolt (A) from the arm (B).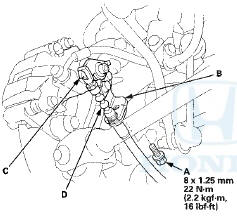 4. Disconnect the parking brake cable from the lever (C).
5. Remove the parking brake cable mounting hardware, then remove the cable.
6. Install the parking brake cable in the reverse order of removal, and note these items: - Be careful not to bend or distort the cable and boot (D).
- Make sure the clearance between the lower arm B and parking brake cable is more than 5 mm (0.20 in).
- Adjust the parking brake (see page 19-8).