Honda Accord: Ignition Key Switch Test
1. Remove the steering column upper and lower covers (see page 20-181).
2. Disconnect the 6P connector (A).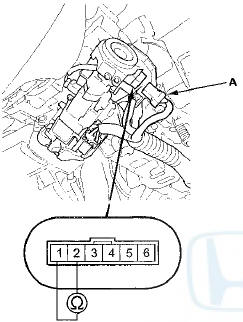 3. Check for continuity between terminals No. 1 and No.
2.
• There should be continuity with the key in the ignition switch.
• There should be no continuity with the key removed.
4. If the continuity is not as specified, the ignition key switch is faulty; replace the steering lock assembly (see page 17-16).