Honda Accord: HFL Switch Test
1. Remove the driver's airbag (see page 24-211) 2. Remove the steering wheel (see page 17-6).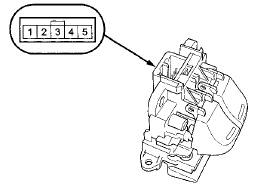 3. Measure the resistance between terminals No. 3 and No. 4 in each switch position according to the table.
HFL-Voice Control Switch

4. If the resistance is not as specified, replace the switch (see page 17-7).