Honda Accord: To Play the FM/AM Radio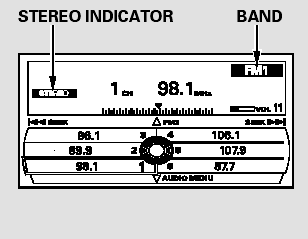 The ignition switch must be in the ACCESSORY (I) or the ON (II) position. Press the AUDIO button to view the audio control display. Turn the system on by pressing the power/volume knob or the FM/AM button. Adjust the volume by turning the power/volume knob.
The band and frequency that the radio was last tuned to are shown on the display. To change bands, press the FM/AM button. You can also change bands by pushing the interface selector up. Each time you push it up, the band will change to FM1, FM2, or AM. On the FM bands, STEREO will be shown on the navigation screen and ST on the center display, if the station is broadcasting in stereo. Stereo reproduction on AM is not available.
On the AM band, AM noise reduction turns on automatically.