Honda Accord: Fuel Pressure Regulator Replacement
1. Remove the fuel tank unit (see page 11-320).
2. Remove the reservoir (A).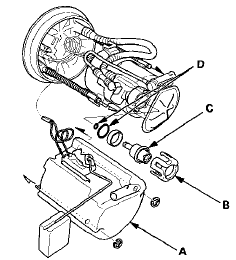 3. Remove the bracket (B).
4. Remove the fuel pressure regulator (C).
5. Install the parts in the reverse order of removal with new O-rings (D) and a new bracket. When installing the fuel tank unit, align the marks on the unit and the fuel tank (see page 11-321).
NOTE: - Coat the O-rings with clean engine oil; do not use any other oils or fluids, - Do not pinch the O-rings during installation.
-СћUse all the new parts supplied in the pressure regulator replacement kit.