Honda Accord: Front Seat Recline Motor Replacement
Driver's Seat (10-way Power Seat)
SRS components are located in this area. Review the SRS component locations, 2-door (see page 24-23), 4-door (see page 24-21) and the precautions and procedures (see page 24-25) before doing repairs or service.
NOTE: - Put on gloves to protect your hands.
- 4-door driver's seat is shown; 2-door driver's seat is similar.
1. Remove the front seat (see page 20-194).
2. Remove the seat-back cover/pad: - 2-door (see page 20-213) -4-door (see page 20-221) 3. Disconnect and detach the recline motor connector (A), and detach the harness clip (B).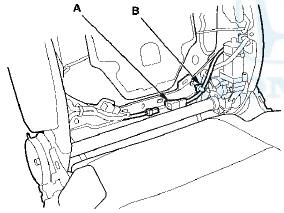 4. Release the push nut (A) from the motor side end of the connecting rod (B), gently tap on the motor side of the connecting rod to remove it from the recline motor (C) and both recline adjusters (D).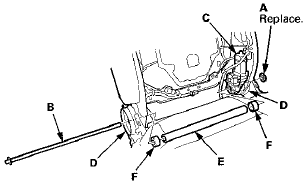 5. Remove the rod cover (E) and the collars (F).
6. Remove the mounting bolt, then remove the recline motor (A).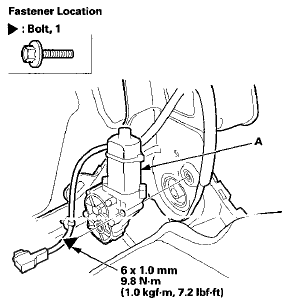 7. Install the recline motor in the reverse order of removal, and note these items: - Replace the push nut with a new one. Make sure the push nut is installed correctly.
- Make sure the recline motor connector is plugged in properly, and push the harness clip into place securely.
- Apply medium strength liquid thread lock to the mounting bolt before reinstallation.
- Check the front seat recline operation.