Honda Accord: Folding Rear Seat
The back of the rear seat folds down, giving you direct access to the trunk.
The seat-back is released from inside the trunk.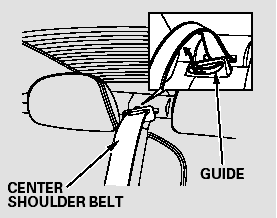 When storing cargo, you can move the rear center shoulder belt out of the way by removing the belt from the guide.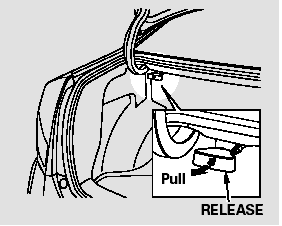 To release the seat-back from inside the trunk, pull the release under the trunk panel. Push the seat-back down from inside the trunk, or pull the seat-back down from inside the vehicle.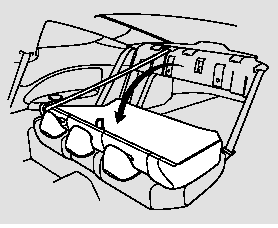 Remove any items from the seat before you fold down the seat-back.
Make sure that the folded seat-back does not press against the front passenger's seat, as this could cause the weight sensors to work improperly.
To lock the seat-back upright, push it firmly against the trunk panel. Make sure it is latched in place by pulling on the top of the seat.
If the rear head restraints get caught on the front seat backs and you cannot fold down the rear seat-back fully, you can remove the head restraints.
Make sure the removed head restraints are securely stored.
Make sure all rear shoulder belts are positioned in front of the rear seatback, and the center shoulder belt is re-positioned in the guide whenever the seat-back is in its upright position.
Be sure there are no twists in any shoulder belt.
Do not put any heavy items on the seat-back when it is folded down.
Make sure all items in the trunk, or items extending through the opening into the back seat, are secured.
Loose items can fly forward and cause injury if you have to brake hard. See Carrying Cargo.
Never drive with the seat-back folded down and the trunk lid open.
See Carbon Monoxide Hazard.