Honda Accord: Head Restraints
Your vehicle is equipped with head restraints in all seating positions to help protect you and your passengers from the likelihood of whiplash and other injuries.
They are most effective when you adjust them so the center of the back of the occupant's head rests against the center of the restraint.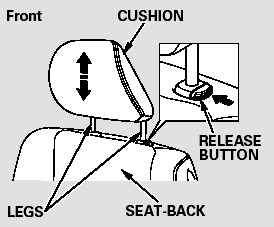 Adjusting the Head Restraint
The head restraints adjust for height.
You need both hands to adjust a restraint.Do not attempt to adjust it while driving. To raise it, pull upward.
To lower the restraint, push the release button sideways, and push the restraint down.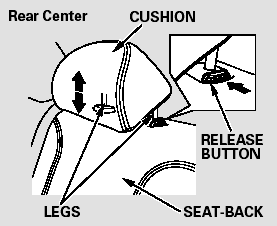 Removing the Head Restraint
To remove a head restraint for cleaning or repair, pull it up as far as it will go. Push the release button, then pull the restraint out of the seatback.

Failure to reinstall the head restraints can result in severe injury during a crash.
Always replace the head restraints before driving.
When reinstalling a head restraint, put the legs back in place. Then adjust it to the appropriate height while pressing the release button.
Make sure the head restraint locks in position when you reinstall it.
Active Head Restraints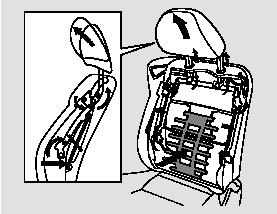 The driver's and front passenger's seats have active head restraints. If the vehicle is struck severely from the rear, the occupant properly secured with the seat belt will be pushed against the seat-back and the head restraint will automatically move forward.
This reduces the distance between the restraint and the occupant's head.
It also helps protect the occupants against the likelihood of whiplash and injuries to the neck and upper spine.
After a collision, the activated restraint should return to its normal position.
If the restraints do not return to their normal position, or in the event of a severe collision, have the vehicle inspected by a Honda dealer.
For a head restraint system to work properly:
Do not hang any items on the head restraints, or from the restraint legs.
Do not place any object between an occupant and the seat-back.
Install each restraint in its proper location.
Only use genuine Honda replacement head restraints.