Honda Accord: Drive Belt Auto-tensioner Removal/Installation
1. Remove the drive belt (see page 4-30).
2. Remove the power steering (P/S) fluid reservoir from the holder.
3. Remove the P/S pump (A) without disconnecting the P/S hoses, then remove the P/S hose bracket (B).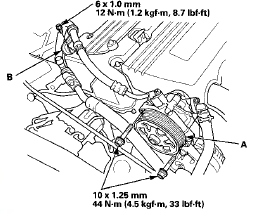 4. Remove the auto-tensioner.
5. Install the auto-tensioner in the reverse order of removal.