Honda Accord: Brake/Taillight and Rear Turn Signal Light/Rear SideMarker Light Bulbs
When replacing, use the following bulbs.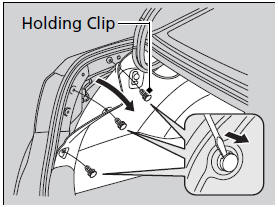 1. Remove the holding clips using a flat-tip screwdriver, then pull the lining back.
2. Turn the socket to the left and remove it.
3. Remove the old bulb and insert a new bulb.

Brake/taillight and rear side marker light bulbs are LED type. Have an authorized Honda dealer inspect and replace the light bulbs.
When removing the clip, insert a flat-tip screwdriver, then lift and remove the clip.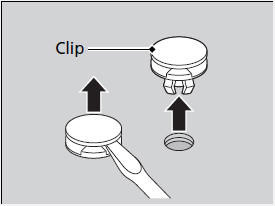 Insert the clip with the pin raised, and push until it is flat.