Honda Accord: Authorized Manuals
• Service Express
For electronic copies of service publications, you can purchase a subscription to Service Express. Visit www.techinfo.honda.com for pricing and options.
• For U.S. Owners:
The publications listed below can be purchased from Helm Incorporated. You can order a manual by phone at (800) 782-4356 (credit card orders only), or online at www.helminc.com.
Make an inquiry to Helm Inc. at (800) 782-4356 if you are interested in ordering other models' or other years' manuals.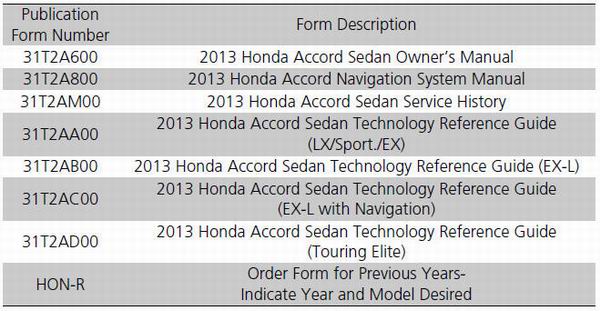 For Canadian Owners:
Si vous avez besoin d'un Manuel du Conducteur en français, veuillez demander à votre concessionnaire de commander le numéro de pièce 33T2AC00