Honda Accord: XM Antenna Replacement
1. Remove the headliner (see page 20-140).
2. Remove the nut (A) from the XM antenna (B).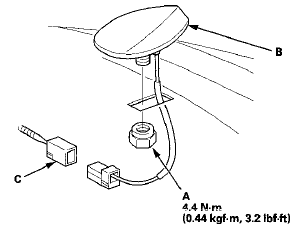 3. Disconnect the connector (C) and remove the XM antenna.
4. Install the XM antenna in the reverse order of removal.
NOTE: To make an effective repair, the broken section must be no longer than one Inch. 1. Lightly rub the area around the broken section (A) with fine steel wool, then clean it with isopropyl al ...
1. Remove the center console (see page 20-158). 2. Disconnect the 5P connector (A), and carefully pull out the auxiliary jack assembly (B) from the center console box. 3. Install the auxiliary ...
See also:
Courtesy Light Replacement
1 Carefully pry off the lens (A) with a small screwdriver. Courtesy Light: 2 CP 2. Remove the bulb (B) from the socket. 3. Install the light in the reverse order of removal. ...
ODS Unit Replacement
Removal 1. Do t h e battery t e r m i n a l disconnection procedure (see page 22-91), t h e n w a i t at least 3 minutes before s t a r t i ng work. 2. Remove t h e f r o n t passenger's seat (s ...
Compass Zone Selection
In most areas, there is a variation between magnetic north and true north. Zone selection is required so the compass can compensate for this variation. To check and select the zone, do this: ...