Honda Accord: Auxiliary Jack Assembly Replacement
1. Remove the center console (see page 20-158).
2. Disconnect the 5P connector (A), and carefully pull out the auxiliary jack assembly (B) from the center console box.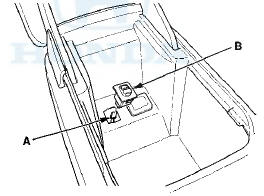 3. Install the auxiliary jack assembly in the reverse order of removal.
1. Remove the headliner (see page 20-140). 2. Remove the nut (A) from the XM antenna (B). 3. Disconnect the connector (C) and remove the XM antenna. 4. Install the XM antenna in the reverse ...
See also:
Horn Switch Test
NOTE: Check for a blown No. 10 (20 A) fuse in the under-hood fuse/relay box. If it is blown, check for a faulty horn relay. 1. Turn the steering wheel 180 degrees from the center position and re ...
Electrical Compass Unit Input Test
1. Remove the rear shelf (see page 20-128). 2. Loosen the bolts (A), then pull out the electrical compass unit bracket (B). 3. Disconnect the 6P connector (C) and remove the mounting bolt ( D ) ...
Piston Installation
If the Crankshaft is Already Installed 1. Set the crankshaft to bottom dead center (BDC) for each cylinder as its piston is installed. 2. Remove the connecting rod caps, then install the ring co ...